8 Reasons to Charter a Private Yacht in Singapore with Fuzzie
We share eight reasons why chartering a private yacht in Singapore should be next on your to-do list. Being a privileged Fuzzie member, you get to indulge in the luxurious experience without burning a hole in your wallet.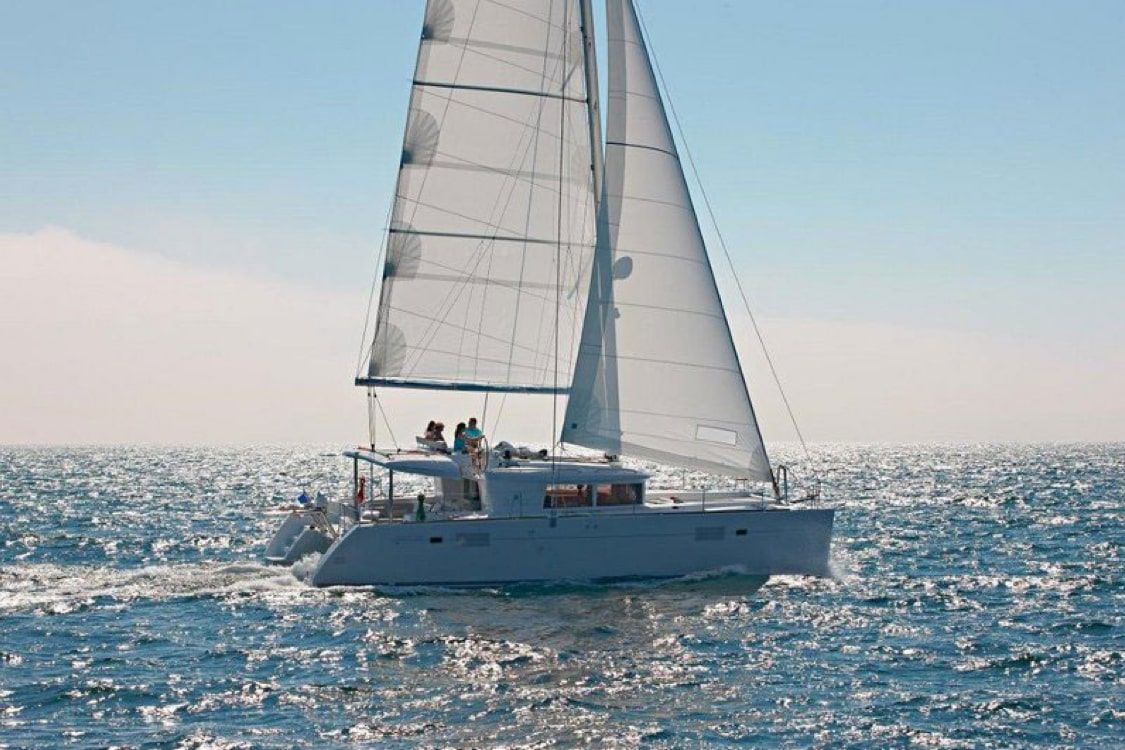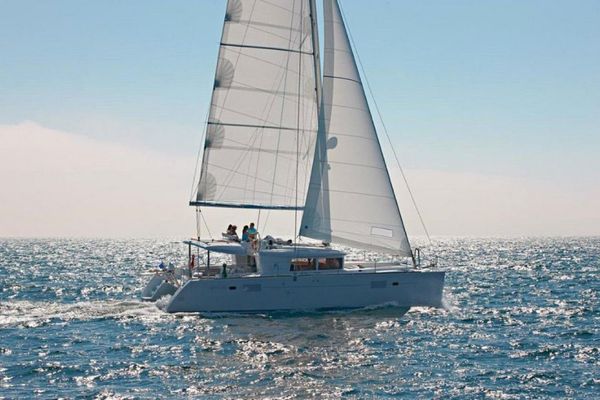 Living in a small country like Singapore can feel a little stifling from time to time. However, there is more than meets the eye. Singapore is made up of not just one, but 63 islands, and some of these islands are readily accessible to the public, with no permits required.
One of the best ways to fully experience and appreciate these islands is through a private yacht charter. Here, we share eight reasons why chartering a private yacht in Singapore should be next on your to-do list. Being a privileged Fuzzie member, you get to indulge in the luxurious experience without burning a hole in your wallet.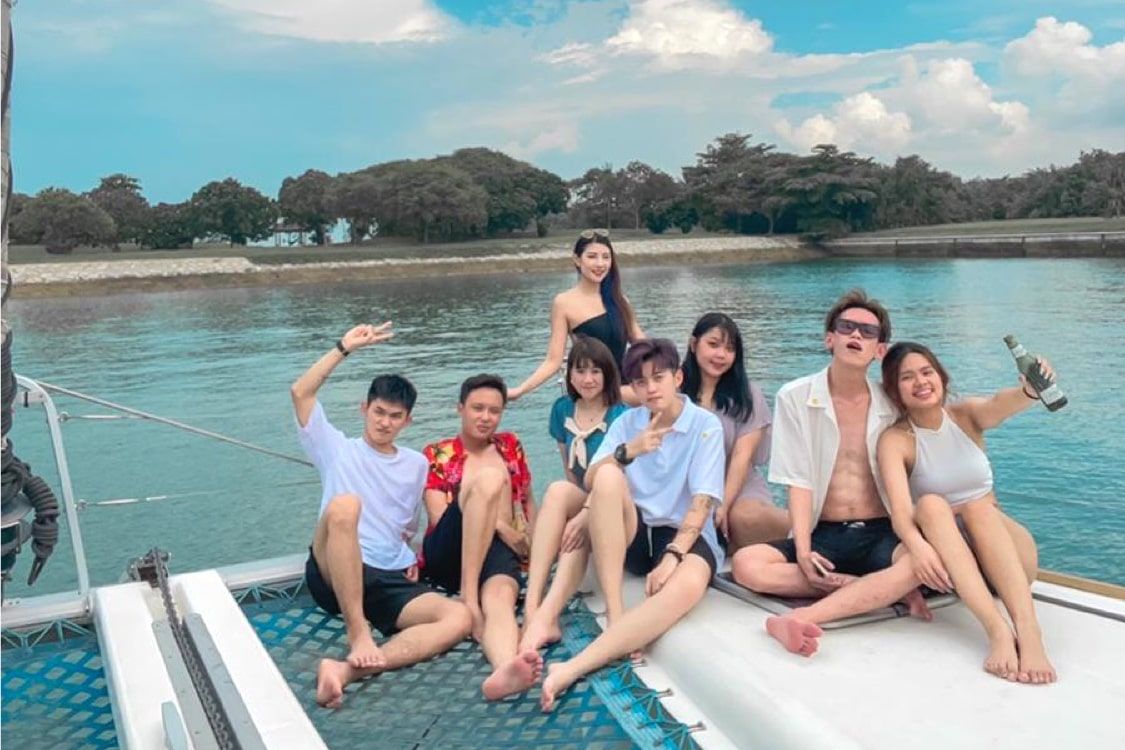 1. You Can Escape The Crowds And Even Have An Island To Yourself
Singapore is known for its hectic urban lifestyle. It does not help that it is also heavily populated and therefore, naturally crowded as well. Looking to experience a true escape away from the city without traveling overseas?
If you choose to give yachts a try, you'll be able to escape Singapore for a little while, and experience Lazarus Island. Quiet and idyllic, Lazarus boasts an environment that's completely opposite of mainland Singapore. The island has minimal crowds, with just a couple of other yachts in the area. On weekdays, especially, it's very possible to find yourselves being the only people on the island too! This is a stark contrast to the densely-populated Singapore.
By being on Lazarus Island, you'll get to immerse yourself in its tranquility and serenity. Relax, breathe, and enjoy the simplicity of the island and of course, the undisturbed photo sessions (no photo bombs!). Moreover, 'photoshoots' on the yacht are sure to bring up a lot of attention on your social media platforms.
As Lazarus Island is really small, you're bound to end up in Eagle Bay, a beach lagoon on Lazarus Island. Eagle Bay also happens to be one of Singapore's best kept secrets too. With crystal clear waters and soft white sand, the lagoon is so beautiful it's as though you stepped into a tropical postcard.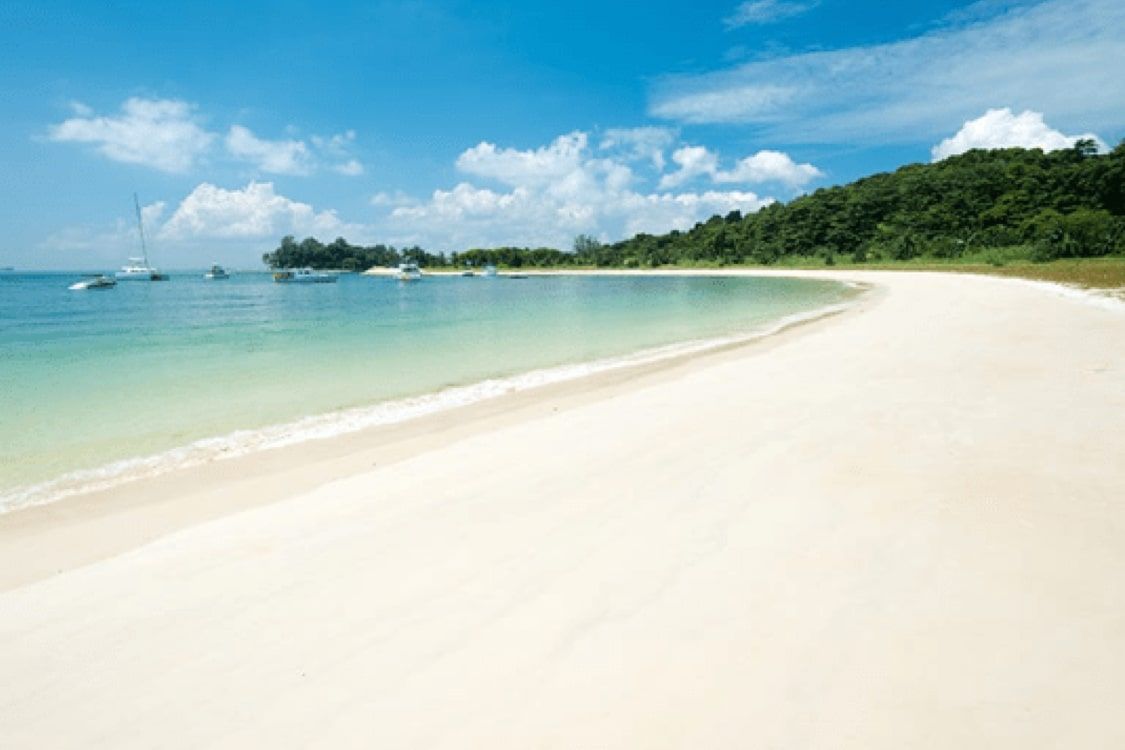 2. Watch The Sunset At The Sea
Let's take a moment to imagine cruising on a private yacht. There is a soft salt-filled breeze, soothing sounds of sea waves, the sea is shimmering like gold from the rays of the setting sun, and the sky is a beautiful display of blue, orange, and pink hues. At that moment, you would feel an unparalleled sense of freedom, liberation, and comfort that is a fitting crown to your yacht charter experience.
Sunset chasing onboard a private yacht is definitely a memorable and unique experience that you will take with you for life. This is especially the case in Singapore, where we are often too busy to take a moment to appreciate the wonders of nature right in front of us.
3. Discover Singapore's Marine Life
Like its neighbours, Singapore too has a rich marine biodiversity and its own share of aquatic gems. Lazarus Island, for example, has seen the elusive Indo-Pacific Humpback Dolphins as well as sea turtles and stingrays. Perhaps, if you're lucky, you may be able to spot these marine creatures during your yacht charter to Lazarus Island.
4. Enjoy A Pampering Experience Unlike Any Other
One good thing about Singapore's geography is that it's protected by land masses from Malaysia and Indonesia. This keeps our sea waters very calm, which is ideal for yacht chartering. Some yachts are double-hulled, which provides additional stability and comfort for charter guests.
This is especially perfect if you're looking to catch up on your tan onboard the yacht's open deck spaces. Yachts also come equipped with heated shower systems, air-conditioning, kitchen utilities, a karaoke system and ample seating space, just to name a few, which are sure to bring respite after being exposed to Singapore's hot and humid weather.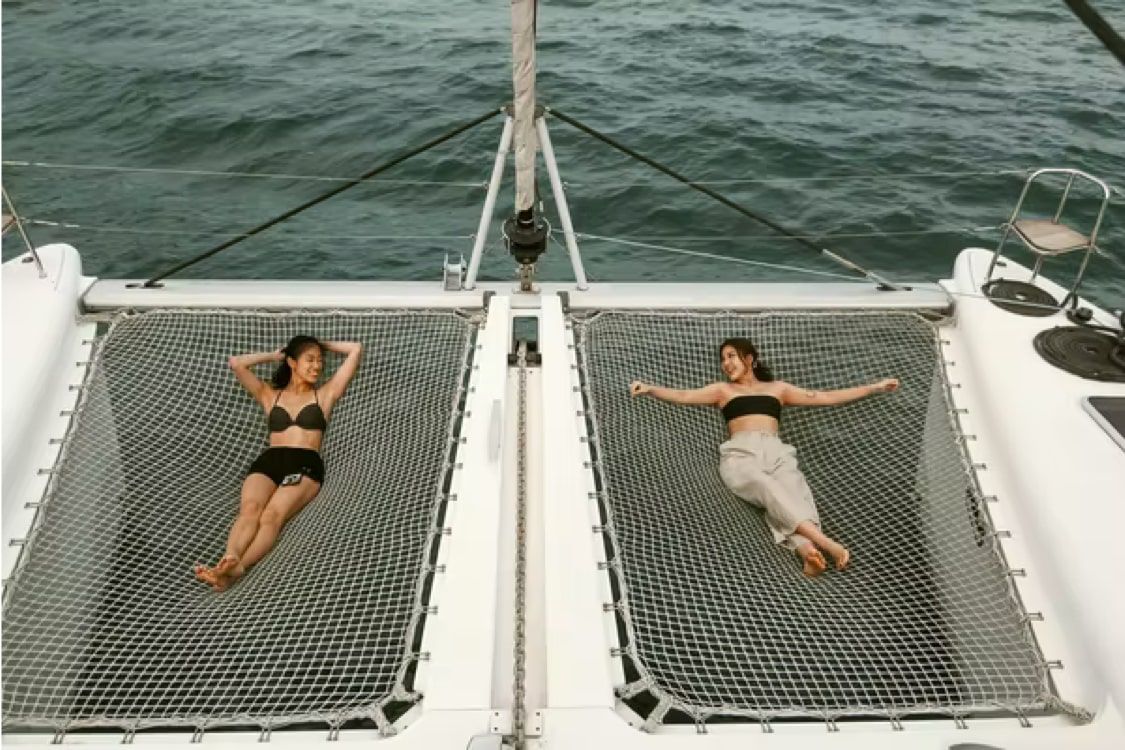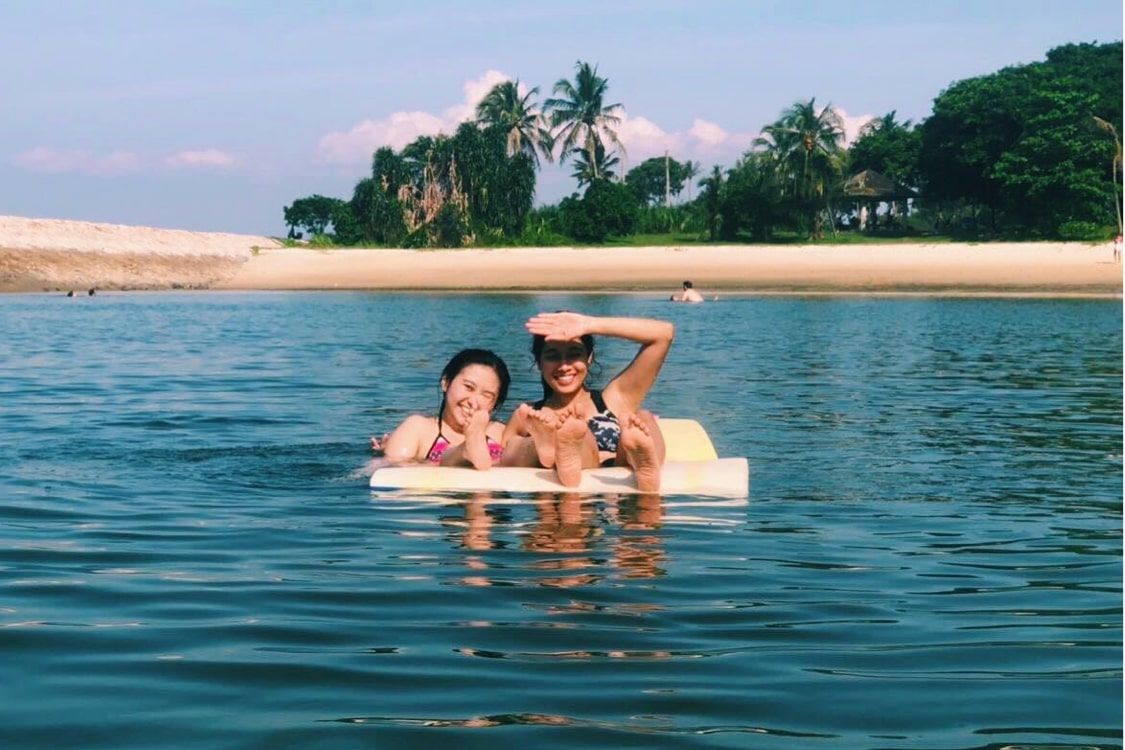 5. Delight In A Highly Personalised Experience
With a private yacht, you'll also have the flexibility to come up with a customised itinerary that meets your needs and preferences. For instance, if you'd like BBQ on board, you can arrange for that by simply speaking to your yacht provider. Yacht providers can be really flexible in accommodating to your dietary needs. This definitely beats public transportation options i.e. ferries, which operate on very fixed schedules, without additional comforts. In addition, you can also opt for experience enhancers like the Marina Bay City Skyline Cruise and the Southern Islands Cruise, which will make your charter more enjoyable and unique.
At the same time, yacht charter providers may offer a variety of water toys to increase the fun factor in your yacht experience. For example, with our partner, White Sails, we offer fishing rods, snorkel kits and kayaks FREE of charge! For the adrenaline seekers, go for a dive into the clear blue sea from the yacht's open deck platform.
6. Appreciate A Different Perspective Of Singapore
If you've opted for the Marina Bay City Skyline, not only do you get to cruise the Singapore strait, you'll also be able to view the iconic Marina Bay city skyline from the lens of a sailor. This cruise is not only picturesque, but it's a meaningful experience that is both historically and economically significant to Singapore.
7. Bring Your Team Closer Together
Taking your team out for a day of bonding and retreat on a yacht is cool and a lot of fun. Fuzzie's yacht partner, White Sails, has teamed up with professional team-building expert, Jambar, to line up your day with all kinds of activities both in the water and on the beach that you can customise. Wind down the day with BBQ and wine as you and your team gaze into the sunset and seal those warm and fuzzy memories.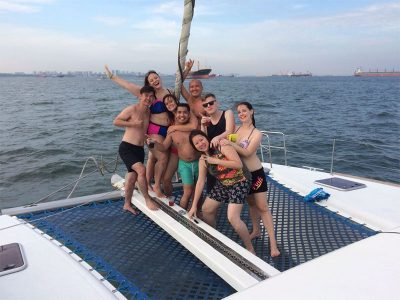 8. It's Not As Expensive As You Think It Is with Fuzzie
Now we've come to the most important reason. It's a common misconception to think chartering a yacht is expensive and exclusive to the rich and successful but fortunately, that is not true at all.
With Fuzzie's help, you can enjoy affordable yacht rental at White Sails for a fraction of the original price. The 4-hour yacht rental starts at just $679 (UP $899), a worthy deal for the amount of unparalleled luxury you'd get to enjoy. Moreover, yachts are very versatile event spaces. You can have many types of events hosted – anniversary celebrations, birthday parties, wedding solemnizations and photoshoots, proposals, and more. The larger the group sizes (capped at 18 people), the lower the cost per person you will enjoy.
For team-building, you'll get an extra sweet 20% off your corporate rates too.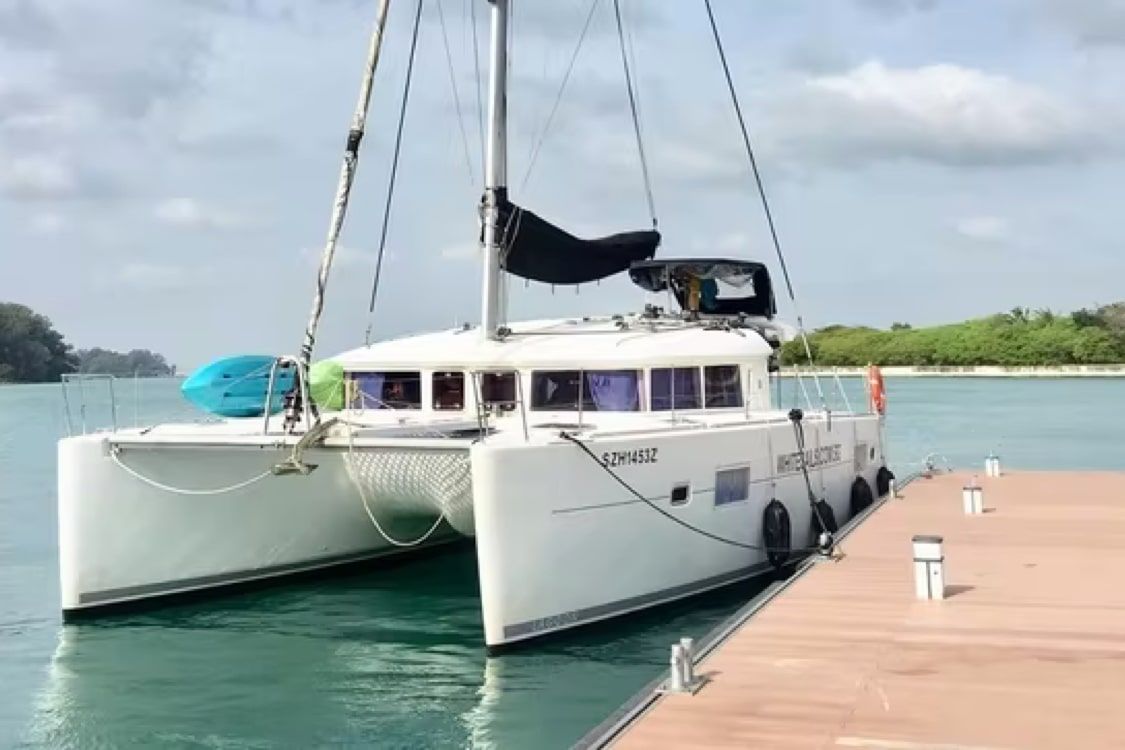 In the end, what matters is a chance for you to unwind away from the grind in maximum privacy. By making a trip down to Lazarus Island, you do get what you pay for and you'd feel like you're not in Singapore anymore.
Fuzzie privilege: 4 hour yacht rental with free add-ons for 2 to 8 pax from $679 (UP $899), 9 to 10 pax from $849 (UP$1199), 11 to 18 pax from $1189 (UP $1399). 20% off corporate rates for team-building - Refer to the Fuzzie App for details.
Keen to find out more about yacht charter
Drop White Sails a line with your questions and they will be in touch quickly (remember to mention you're a Fuzzie member and the package from the app you're considering).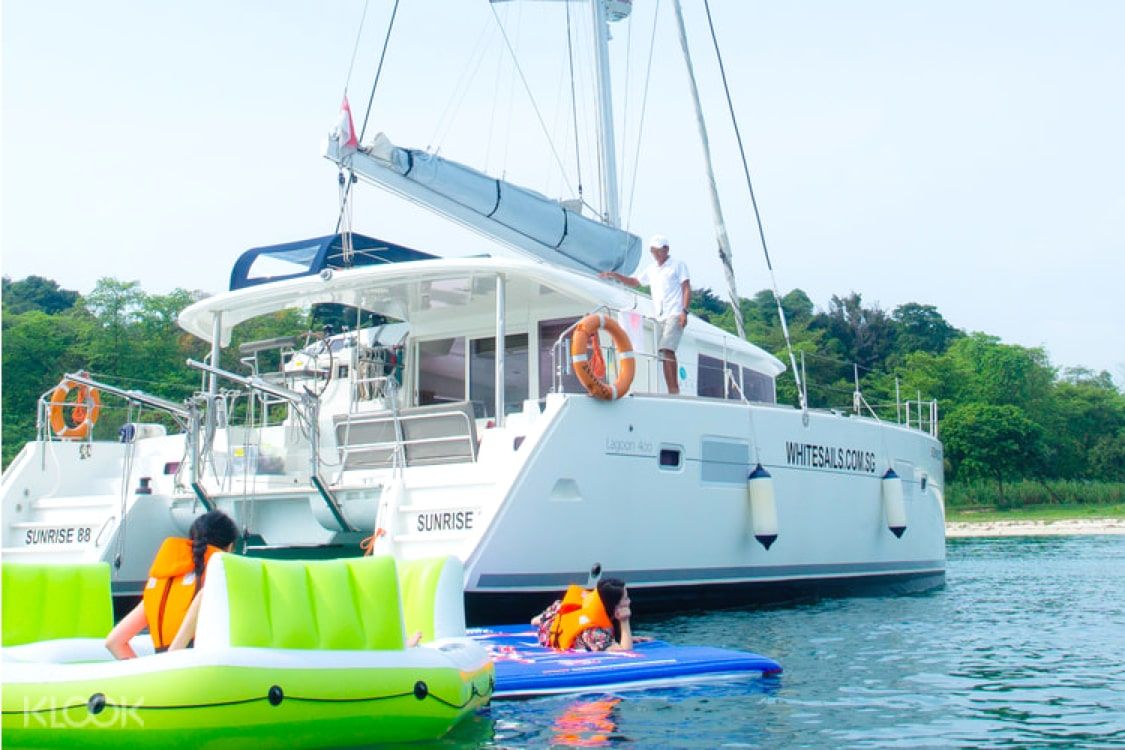 ---
About Fuzzie - The game-changing corporate privilege club everyone is talking about
Fuzzie is an invite only, all-in-one privilege club that grants you special access to thousands of exclusive benefits on food, spas & massages, cars, staycations, gym & fitness, personal grooming, kids, pets, home, activities, dental, healthcare and many more. As a sign up bonus, you will immediately enjoy over $2000 worth of free gifts with no spending required. Stretch your dollar to save thousands each year as Fuzzie quickly becomes an essential part of your family's life.
If your company does not have access to Fuzzie yet, ask your company HR/management to contact us at hello@fuzzie.com.sg and we'll help you to quickly get set up . Learn more about us.