Cute date ideas beyond your normal dinner & movies
Are you tired of going on boring dates? Fuzzie helps you out with a list of fresh new ideas to spice up your dating life. From cosmic bowling to a romantic cruise, art jamming and more, we got you covered.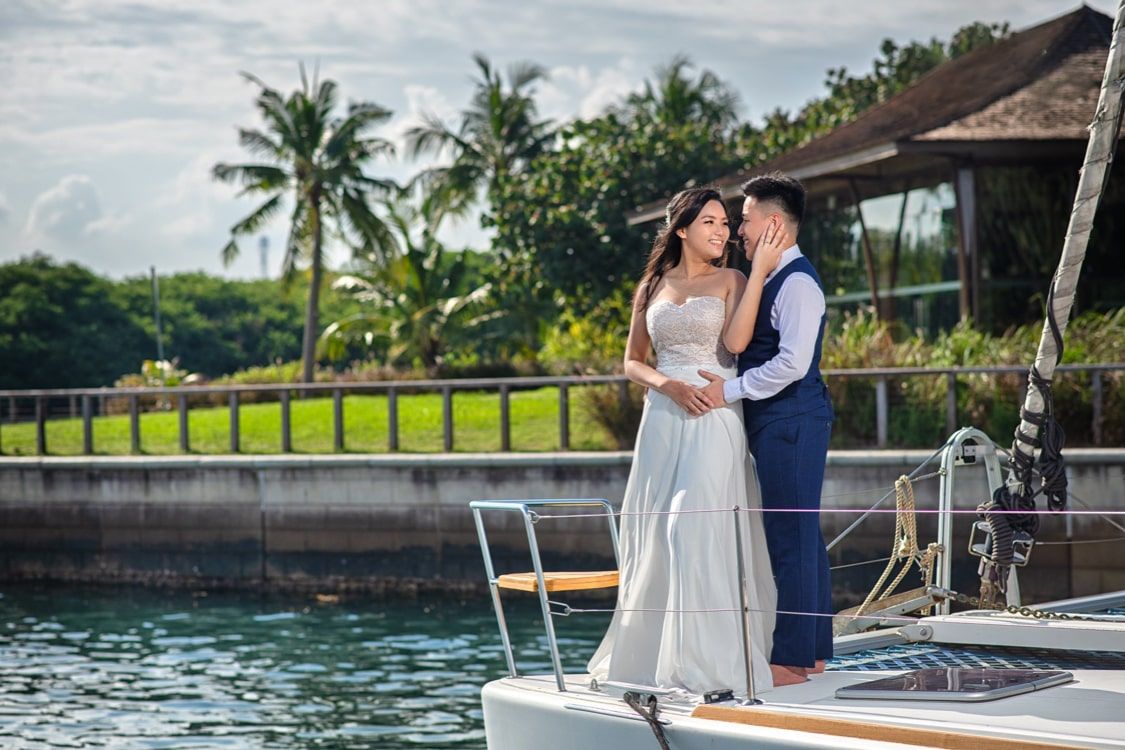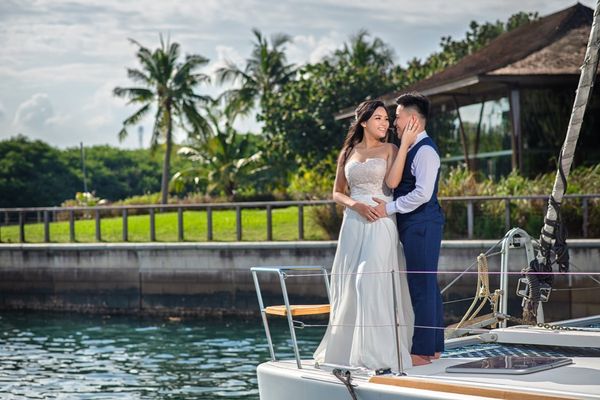 Updated 21 Aug 2023
Is dating in Singapore becoming boring to you? Are you tired of going to the same spots for dinner and watching movies everyone else has seen? We get it but it doesn't have to be! This is your sign to jazz up your dating life by throwing new activities into the mix. Take the chance to surprise your date (and yourself) with these fresh ideas on Fuzzie.
Get lost in the golden age of cinema with The Projector
Retro Cinema With Pizza, Beer & Live Comedy Nights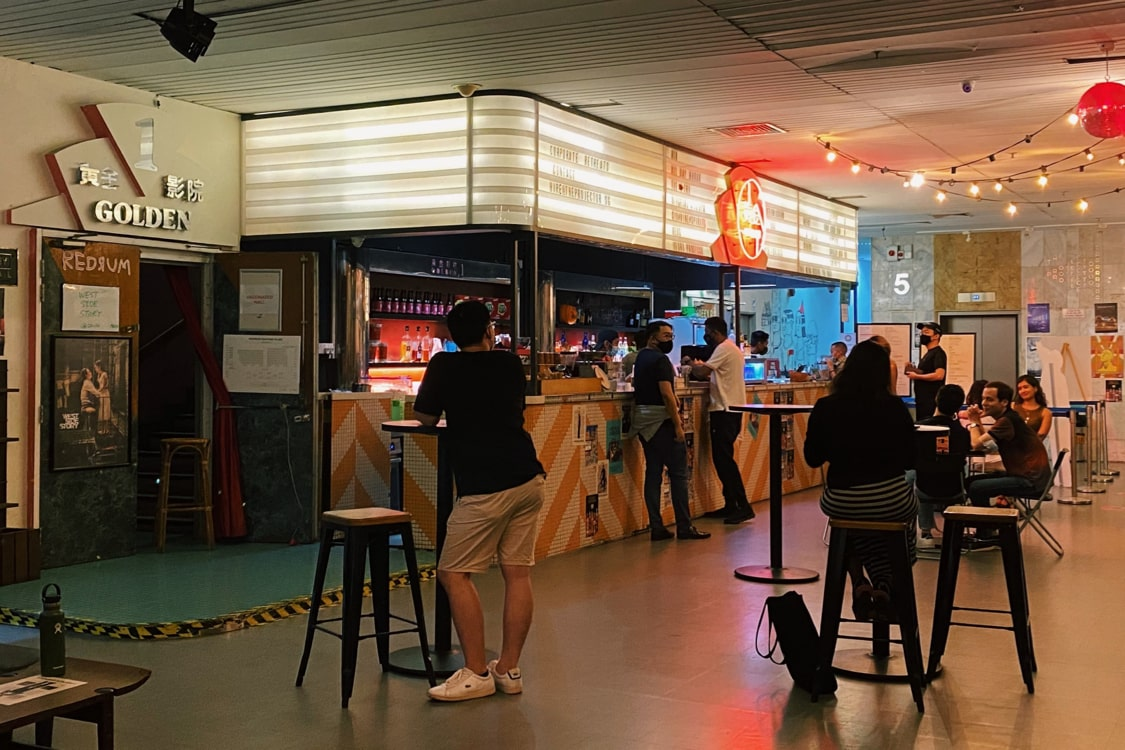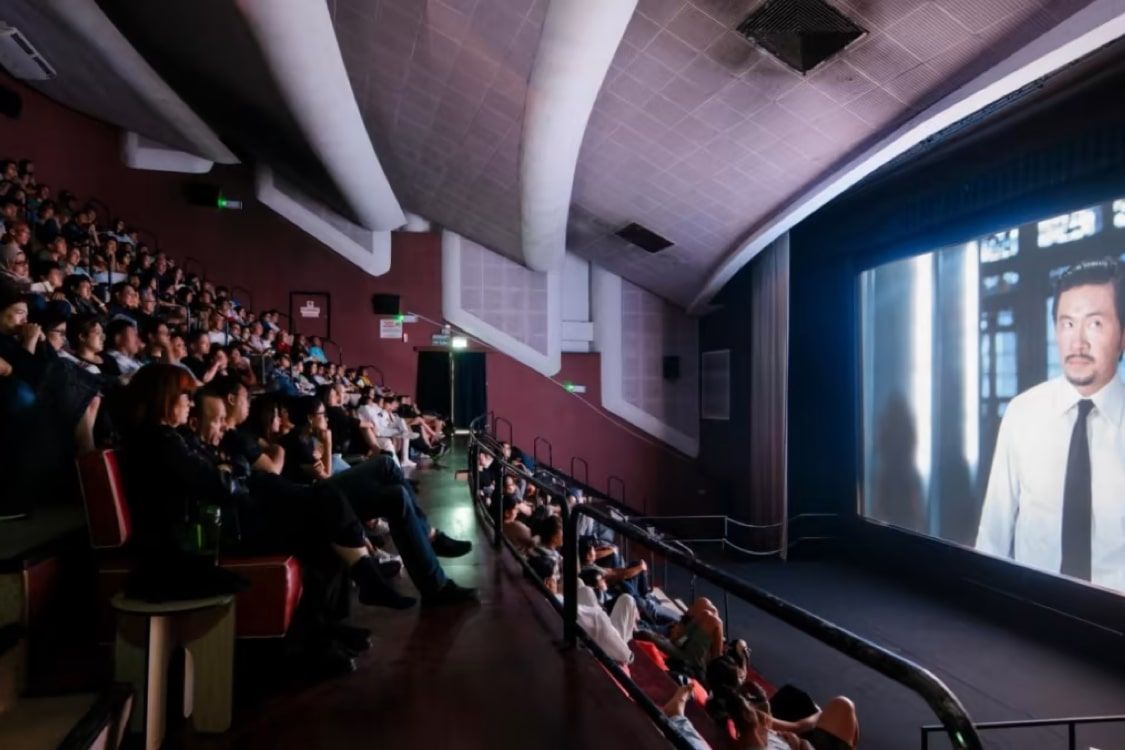 The Projector brings to life the golden age of cinema. Occupying what was once an aging theatre, the cinema now buzzes with art lovers and moviegoers eager for a unique movie experience.
With its retro-inspired interiors exuding nostalgia, they let you bring in food forbidden by mainstream cinemas such as grilled cheese, pizzas, craft beers and cocktails.
With bean bag options for your seats, they're perfect for a date night or chilling with friends with many Instagrammable moments that await.
Public price: $10 to $15 per pax for standard tickets
Fuzzie privileges:
$2 off standard ticket prices
10% off total bill at Intermission Bar
Location: Cineleisure
All-You-Can-Eat ice cream and Instagram wonderland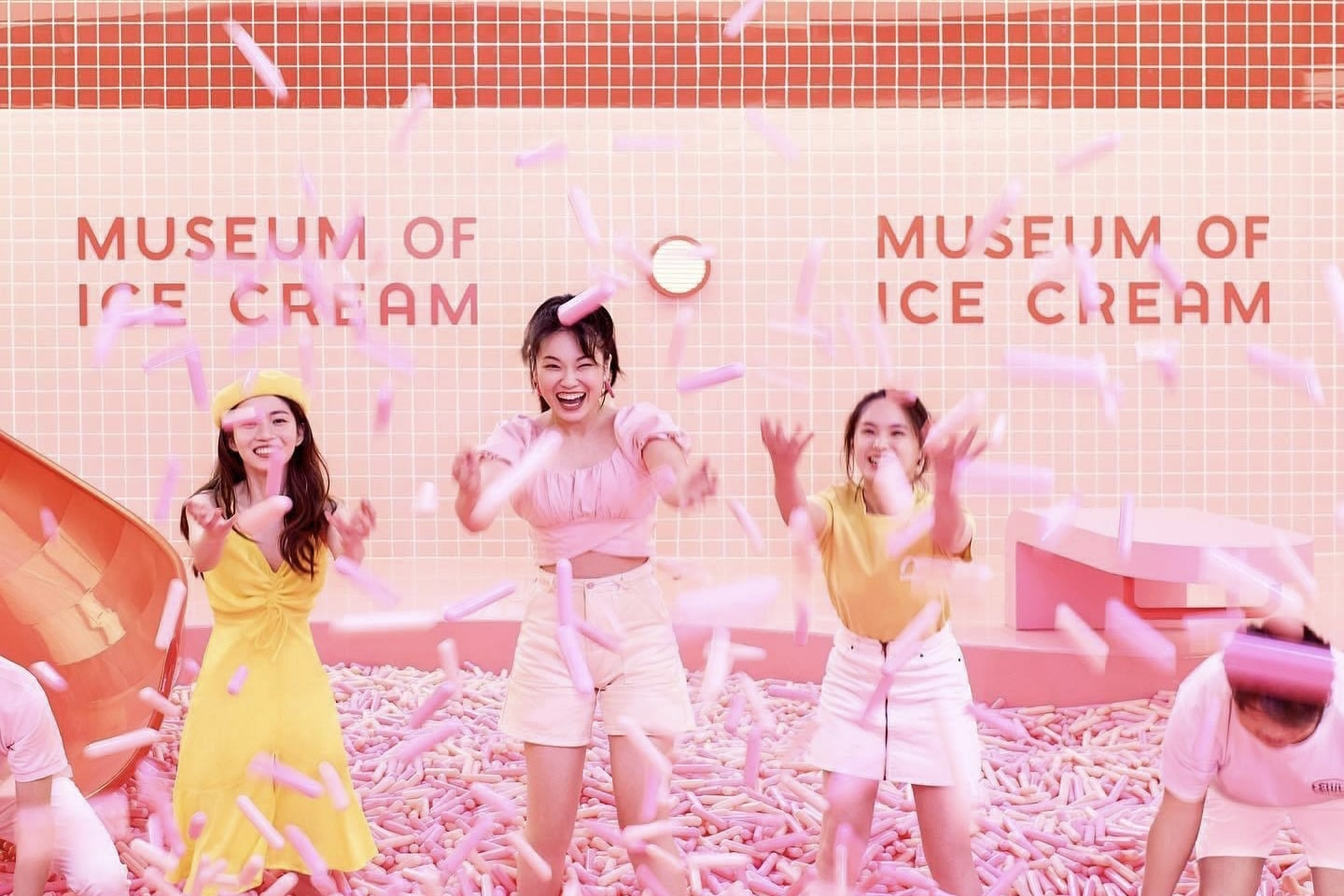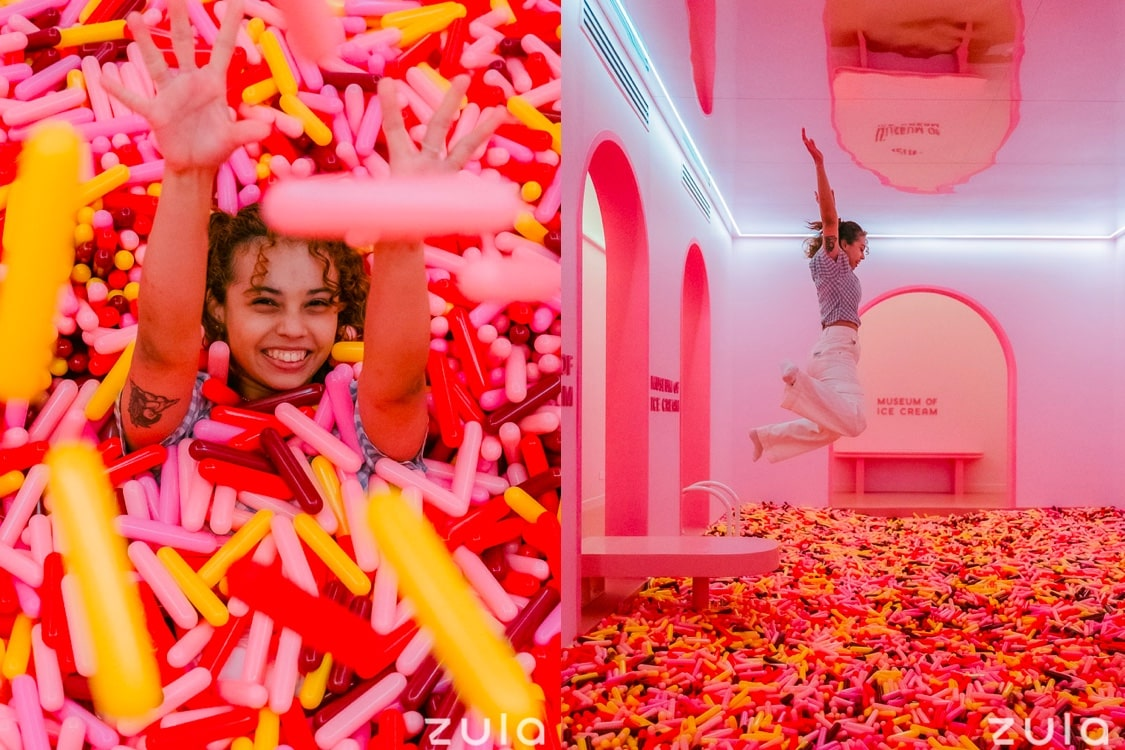 Unleash your inner child at the Museum of Ice Cream. This fun-filled playscape is dedicated to all things ice cream, with interactive exhibits and Instagram-worthy installations that are sure to delight and inspire. From the iconic sprinkle pool to giant ice cream sculptures, you'll feel like a kid again as you explore and learn about the colourful and whimsical world of ice cream. And the best part? Unlimited ice cream. Whether you're young or young at heart, the Museum of Ice Cream is a sweet escape that's sure to leave you with a sugary high.
Public price: From $36 per pax
Fuzzie privilege: 15% off admission, food & drinks and retail
Location: Dempsey Hill
Soothing mineral-rich soak, massage and bento or omakase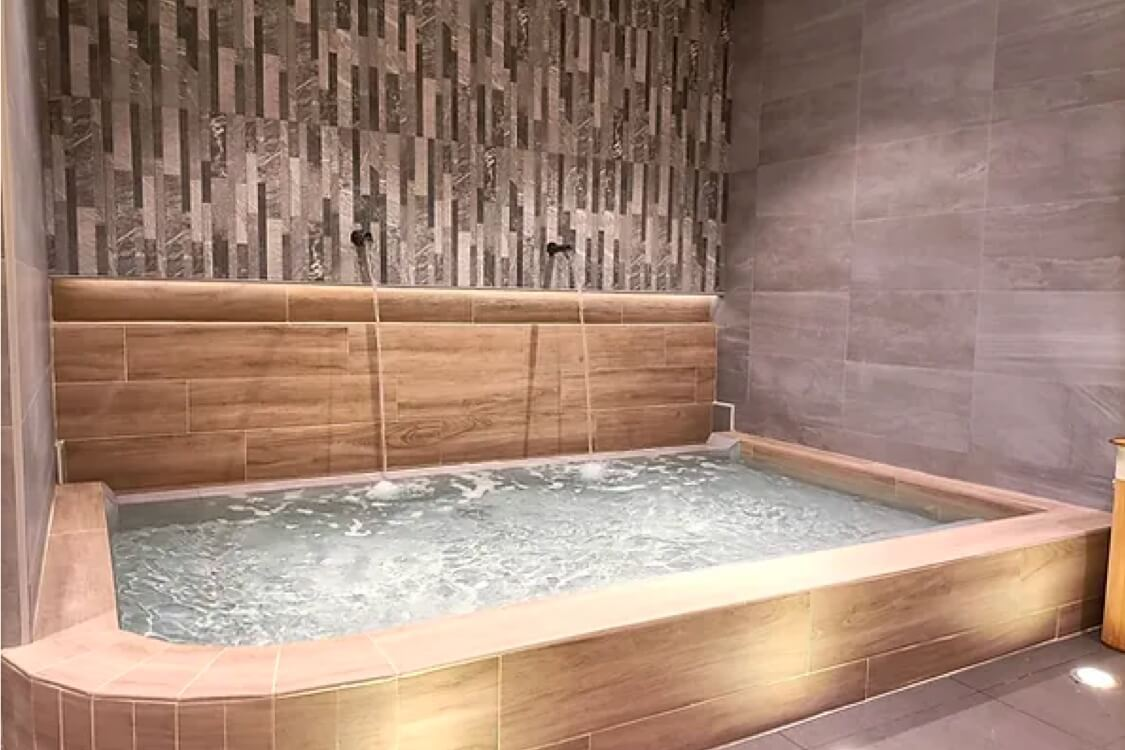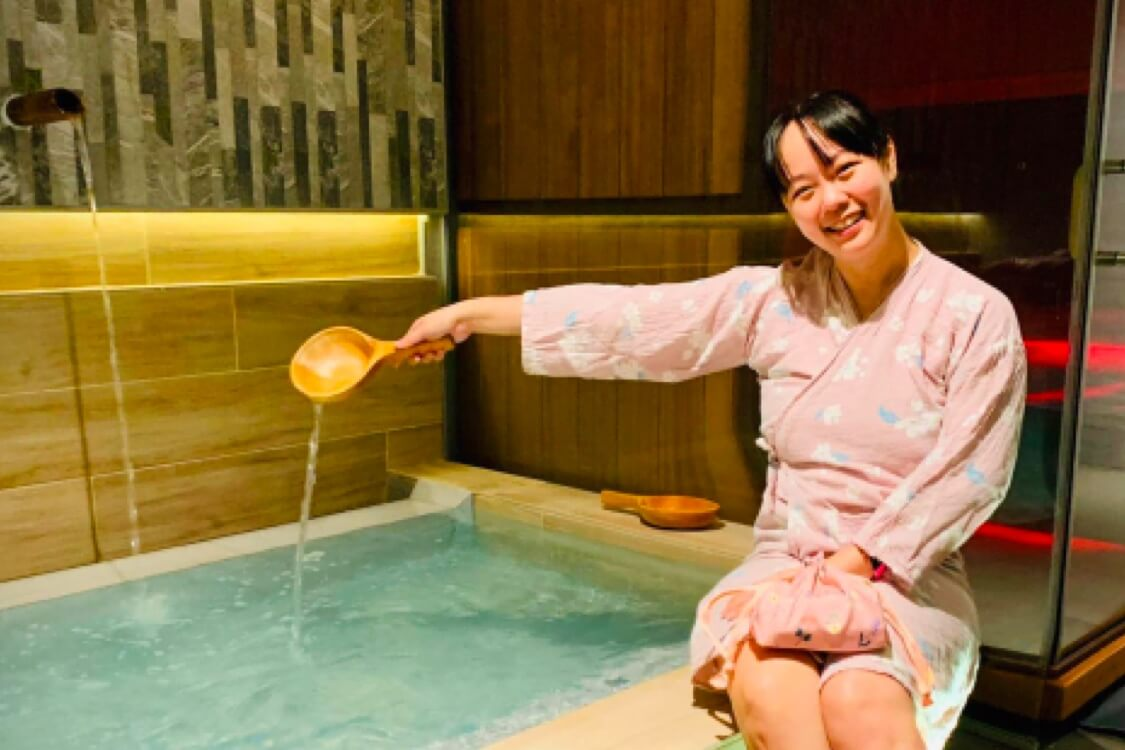 Heiwa means 'peace' in Japanese. Their selection of services will certainly help you to easily infuse zen into your date experience. Start with a full Swedish or aromatherapy body massage to knead away the stresses of the day. If massages aren't your thing, their pressure-point foot reflexology also does the trick. Then ease into the mineral-rich onsen bath to rejuvenate your skin and your senses.
Complete your relaxing session with well-loved Japanese bites at their in-house Japanese restaurant, helmed by award-winning sushi expert Chef Wong. There's a good selection of sushi as well as a carefully curated omakase experience, all prepared by skilled Japan-trained chefs.
Fuzzie privileges:
Free 4-hour entry to the onsen for two persons (worth $68+ per pax). Top up $78 nett for both to add on a 1-hour full body massage and freshly prepared premium Japanese bento set (worth $149+)
For return visits: Fuzzie Ultimate Rejuvenation Pass for $108 nett per pax (UP $193+) - Spa Pass + 1-hour body/foot massage + premium Japanese bento set
For long term visits: Buy 10 Fuzzie Ultimate Rejuvenation Passes for $1080 nett, get 2 free (UP $2316+)
For corporate bookings: 25% off booking rates
Fuzzie promise: No hard-selling, just great quality service
Location: Harbourfront Centre
Bathe together in a private couple onsen with Joya Onsen Cafe
Tea infusion onsen, sauna and a cute cafe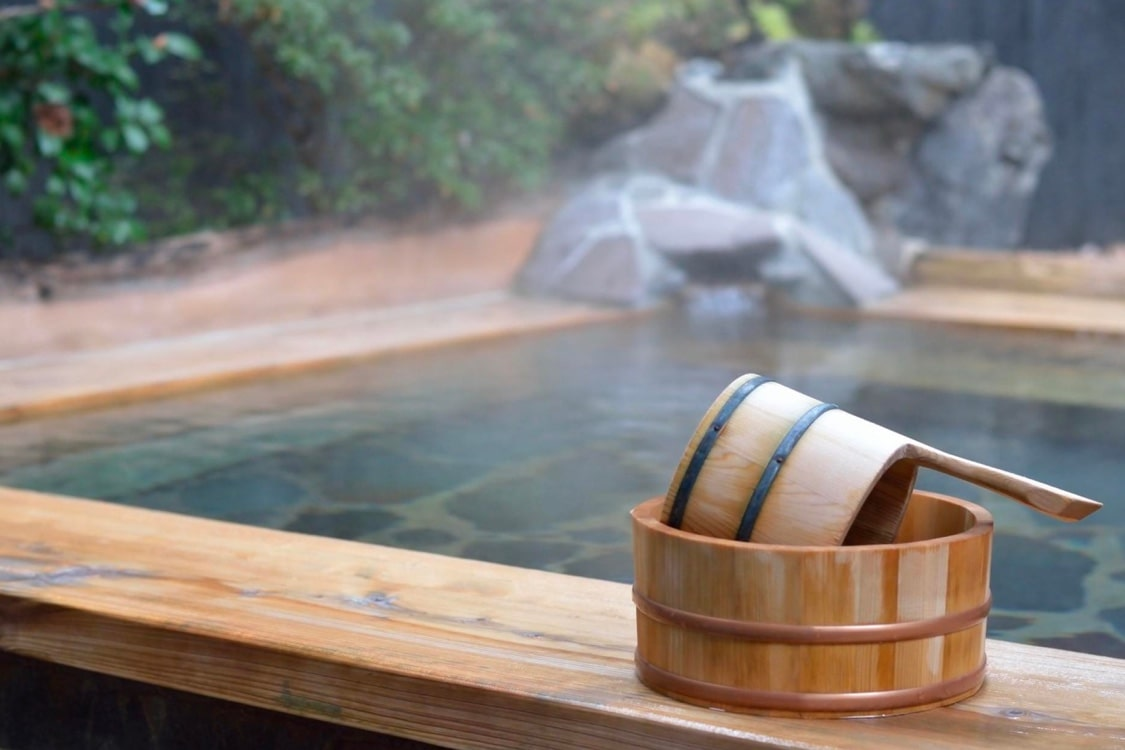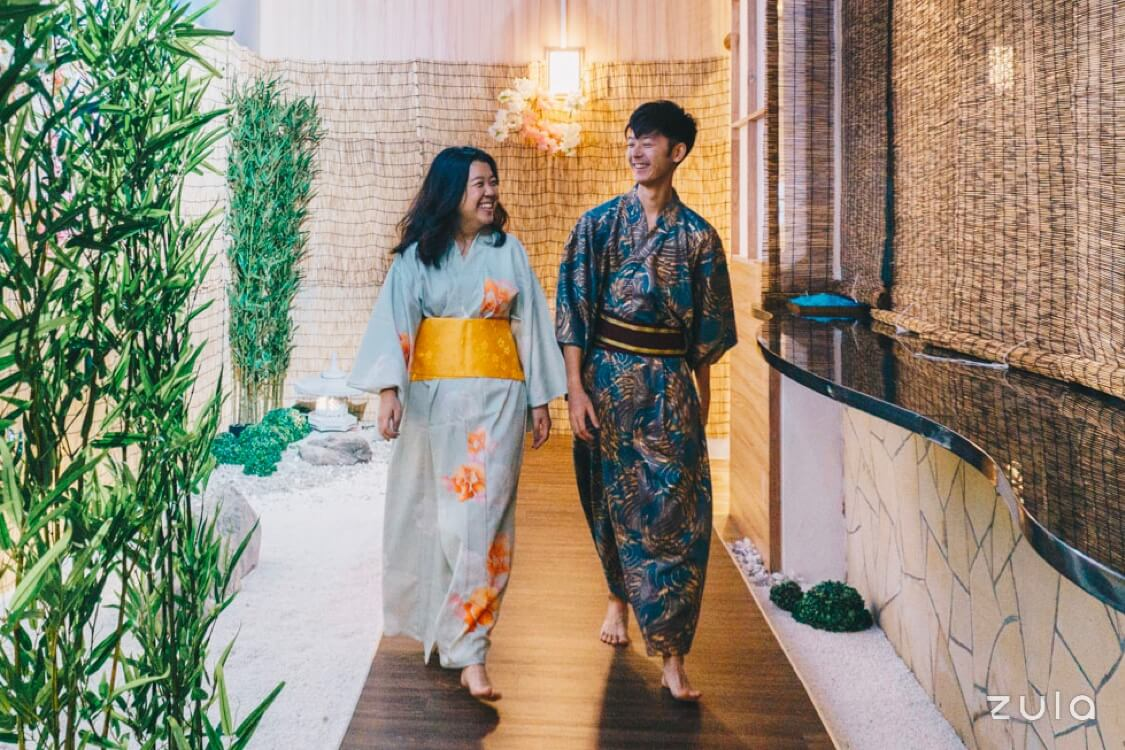 Joya Onsen's bathhouses feature tea infusions that change seasonally.  Go for the private onsen experience that is perfect for couples. You'll have 1.5 hours to soak in the bath water all to yourselves.
Start with their onsen for 30 to 60 mins and switch over to their sauna for 5 to 15 mins to further open your pores and detoxify your body. Finally dip into the cold bath to tighten your skin.
Nip into the cafe for Japanese cuisines like noodles, rice bowls and a wide range of authentic Japanese desserts like Momo Chan and Warabi Mochi. Duly satiated, emerge into the world again glowing from the inside out.
Public price: $132 for 1.5h for a private onsen for 2 pax
Fuzzie privileges:
25% off public or private onsen with a free drink of the day; booking via WhatsApp required for the latter
On the same day of your onsen visit, you'll also receive a cafe voucher of 20% off the total bill with a min spend of $35 or 15% off the total bill with min spend of $20 at the cafe
For long term visits: 6 Month Fuzzie Unlimited Public Onsen Full Day Pass for $428 nett or 12 Private Onsen for 2 sessions for $788 nett (UP $1584) with top up options for more guests
For corporate bookings: 30% off tiered rates
Fuzzie promise: No hard-selling, just great quality service
Location: d'Arena at Joo Koon
Pro-tip: To make your trip to d'Arena even more worthwhile, go on a fun go-kart experience there with The Karting Arena with your exclusive Fuzzie privilege.
Descent into the Virtual Reality gaming world with V-Room
Battle aliens and zombies or race together in the VR land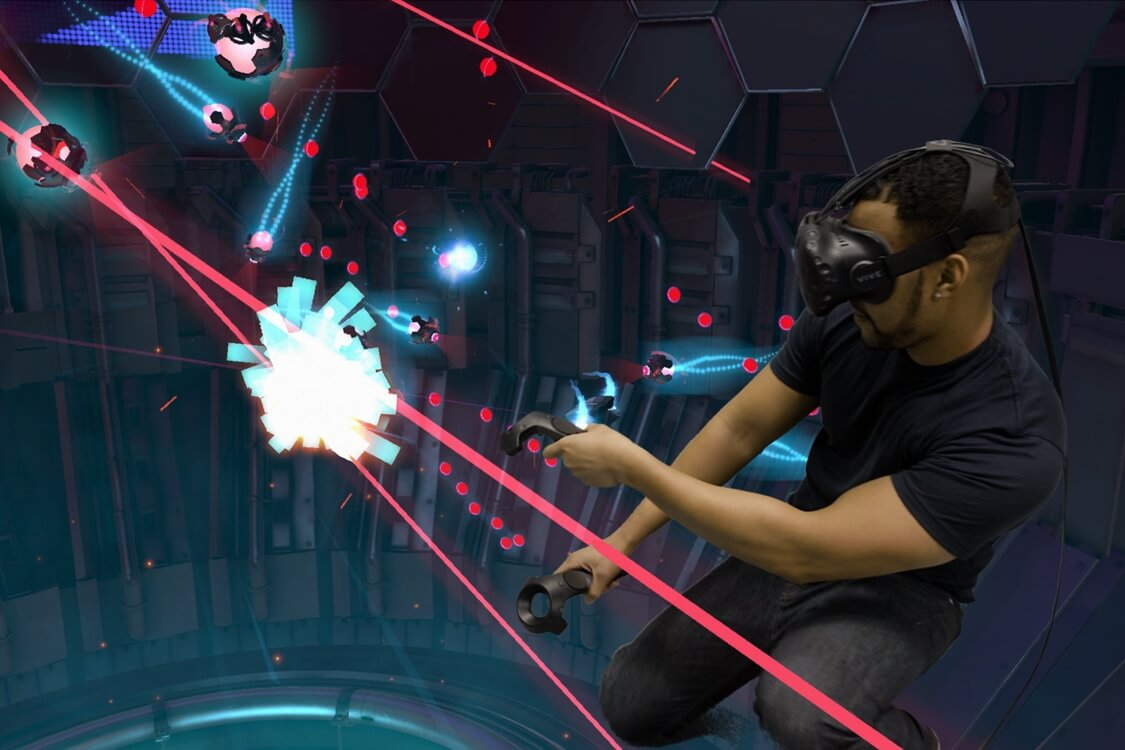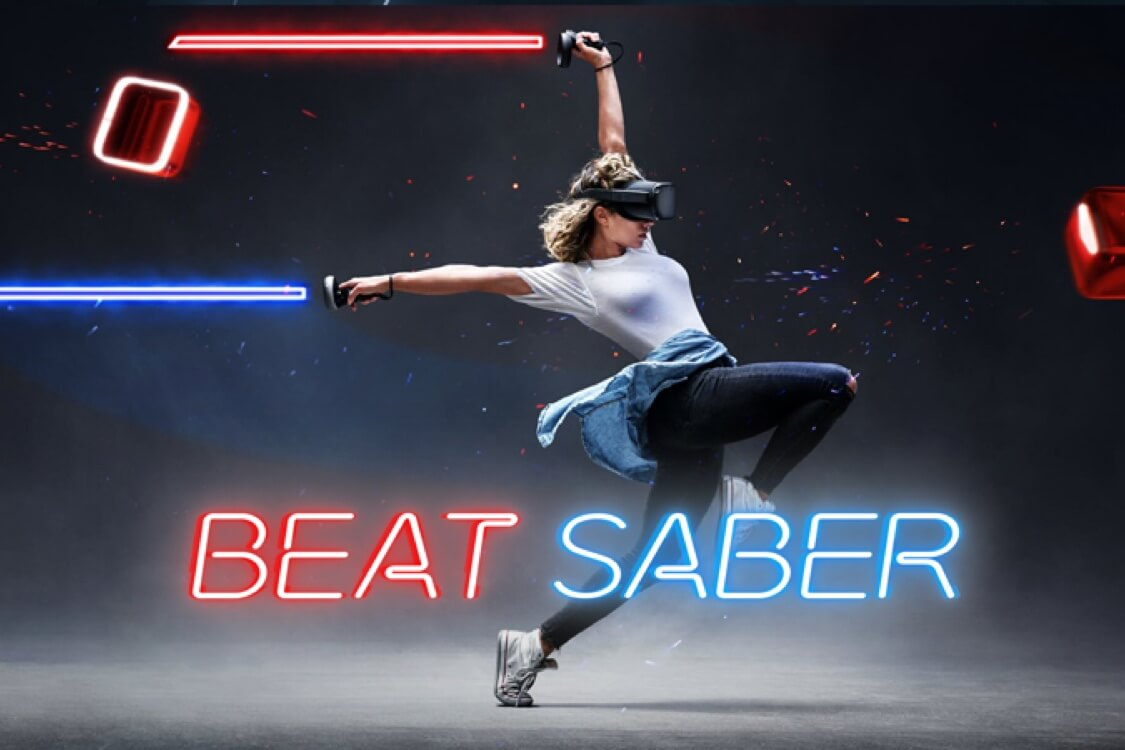 Are you ready for a cutting-edge VR gaming experience? Boasting the most diverse and eclectic VR arcade games in Singapore, V-Room has everything you need from truly thrilling genres to lighthearted ones for adventurous spirits. Try your hand at the high-end sport with Walkabout mini golf, battle the terrifying alien race 'the Combine', or groove it up with Beat Saber as you compete with each other.
Public price: (Weekday) $24/hour per headset, (Weekend) $30/hour per headset. (If there are more than 2 people, the additional pax will be charged at $12/h for weekdays and $15/h for weekends)
Fuzzie privilege: 20% off total bill with min 2 headsets
Location: Harbourfront Centre
Work together on an escape adventure with The Escape Artist
Great for doing a double date with another couple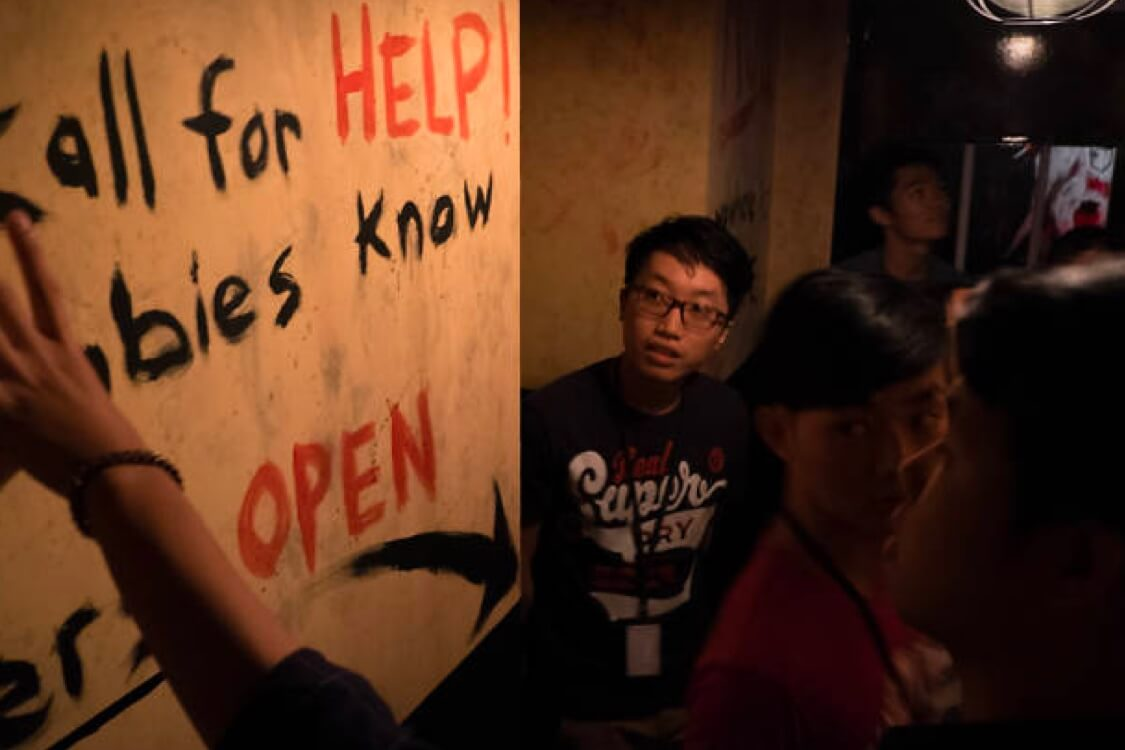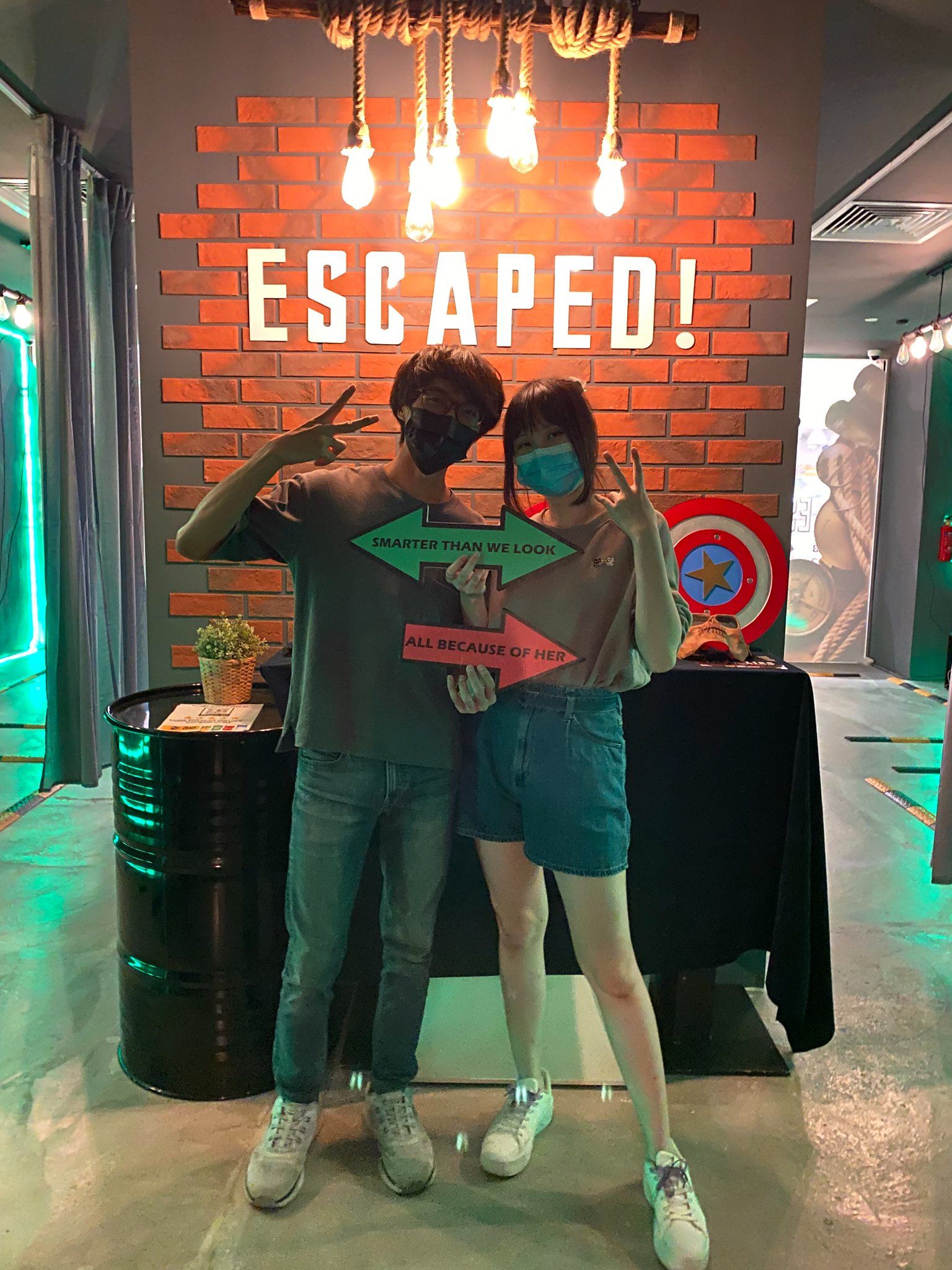 A top Escape Room experience in Singapore, The Escape Artist offers a range of exhilarating experiences. Be ready to be scared out of your wits at the thrilling challenges, Circus of the Dead and Kidnapped, or solve puzzles as ninjas in Night Before the Storm. Celebrate your victory with a group photo taking complete with props. Conveniently located at Harbourfront Centre, you can easily use your other Fuzzie privileges in the mall to make your outing even more worthwhile.
Public price: (Weekday) $22 to $24/hour per pax, (Weekend) $28 to $30/hour per pax
Fuzzie privilege: 20% off total bill with min 4 pax
Location: Harbourfront Centre
Cosmic bowling,  from morning till the wee hours with K Bowling Club
Cosmic bowling party with arcade games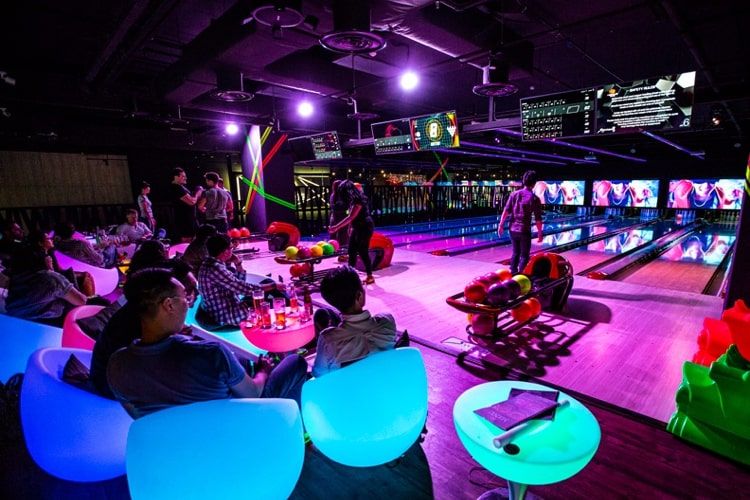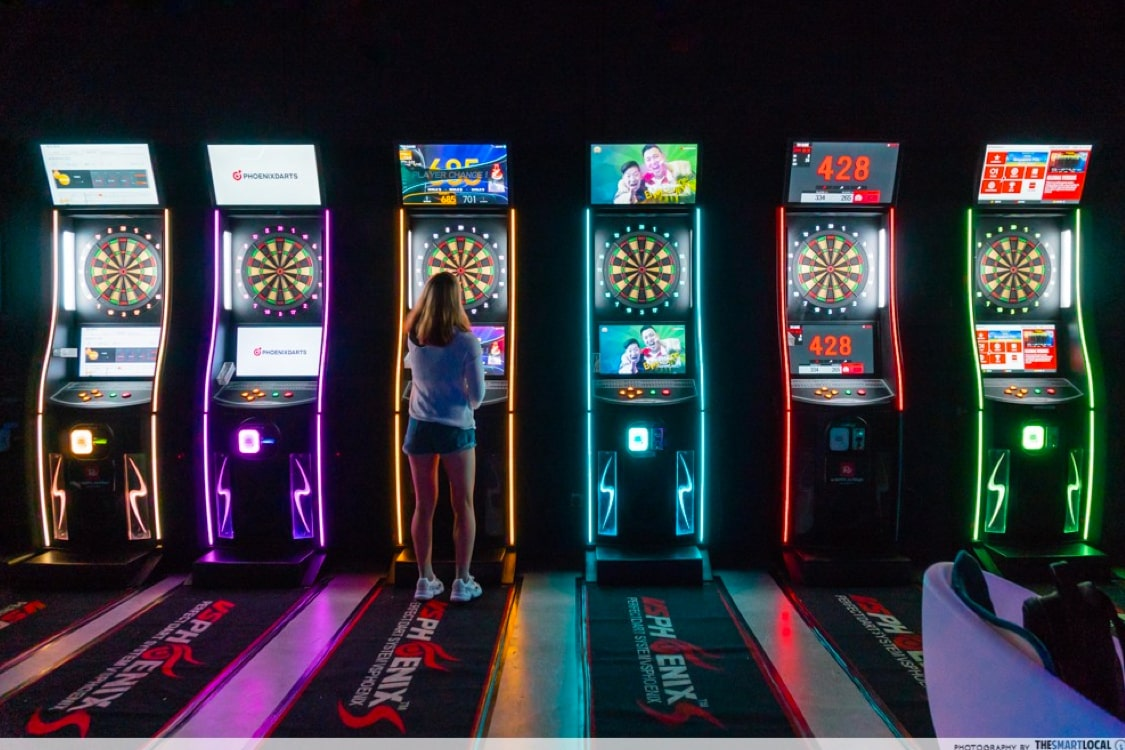 Is an "active" date more up your alley? Try out an enhanced version of indoor sports at K Bowling Club, the first full-time cosmic bowling alley in Singapore. With dazzling lights and upbeat music to get both your hearts racing, K Bowling Club provides the thrill and action you are seeking.
Besides bowling, there's also an arcade with retro games, dart machines, claw games and pool tables for you and your partner to play to your hearts' content. When you need a rest, step into a karaoke booth to end the date with a serenade and drinks from their bar.
K Bowling operates from 10am to 3am (weekdays) and 4am (weekends).
Public price: From $11/game per pax
Fuzzie privilege: 20% off total bill with free shoes and socks (worth $4 per guest)
Location: Somerset 313
E-racing together like a pro with  Legion of Racers
Experience 1-hour of professional e-racing simulator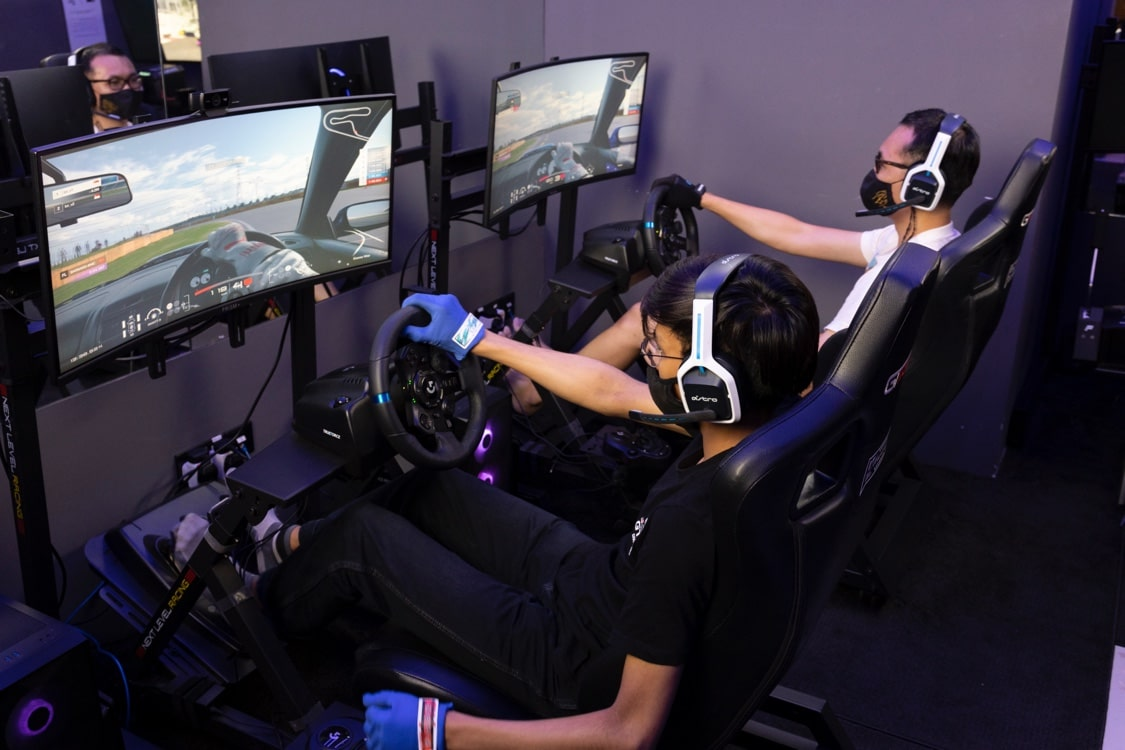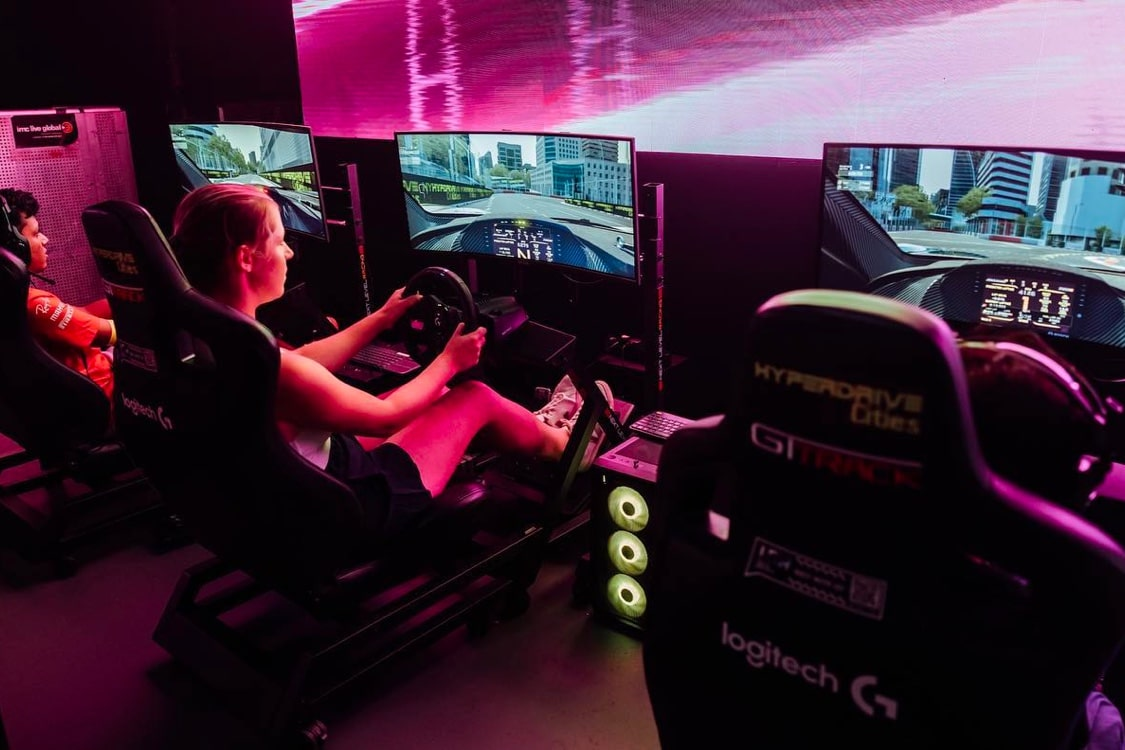 Get an adrenaline rush at Singapore's best pro e-racing simulator. Battle each other for an hour of intense racing with their state of the art machines, which comes with special gloves and headsets to take your experience the next level. LOR is the place where pro-gamers train to fight at elite global e-sports championships and they have produced multiple Asian champions.
Play time: Min 1 hour
Public price: $20 - $25/h (Basic Experience), $55 - $65/h (Premium Experience)
Fuzzie privilege: 20% off all E-Racing Simulator Experiences
Location: Kallang
Sail away to Lazarus Island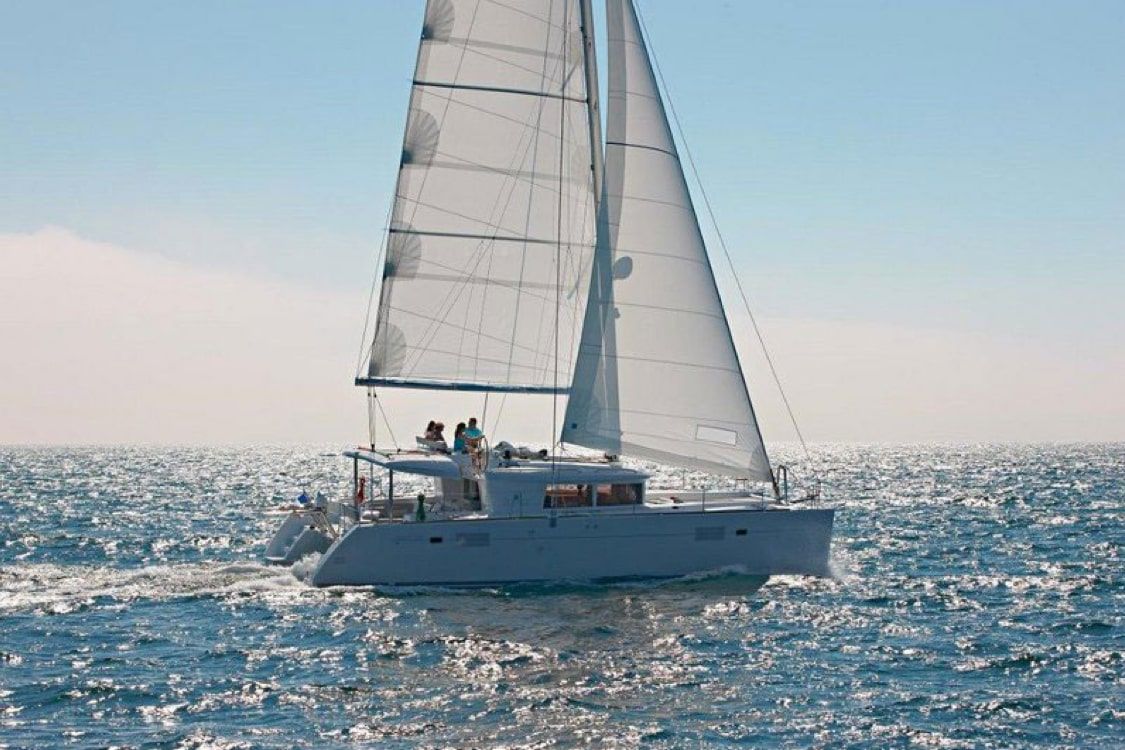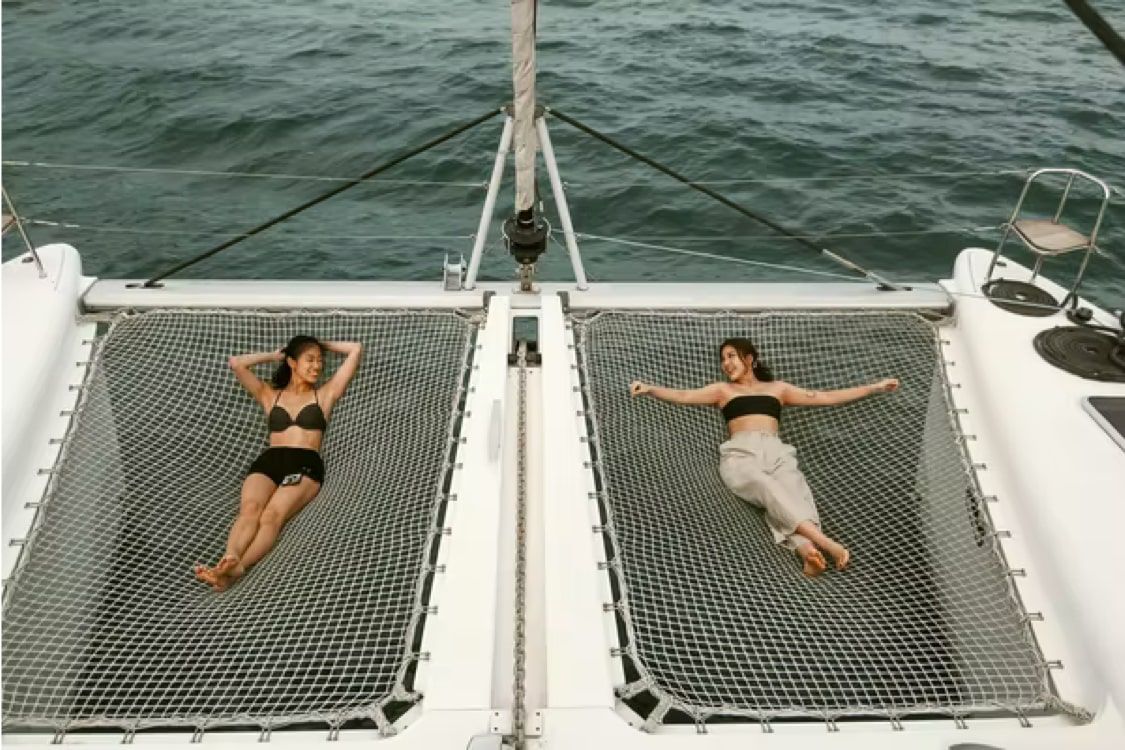 Rent your own private, luxurious yacht with your partner and set sail to the beautiful Lazarus Island, where you can enjoy water activities and a tantalising BBQ to satisfy your appetites. Snorkel in the crystal blue waters, go for a round of kayaking, or just float about in tranquil bliss. White Sails is the perfect spot to have a romantic date unlike any other.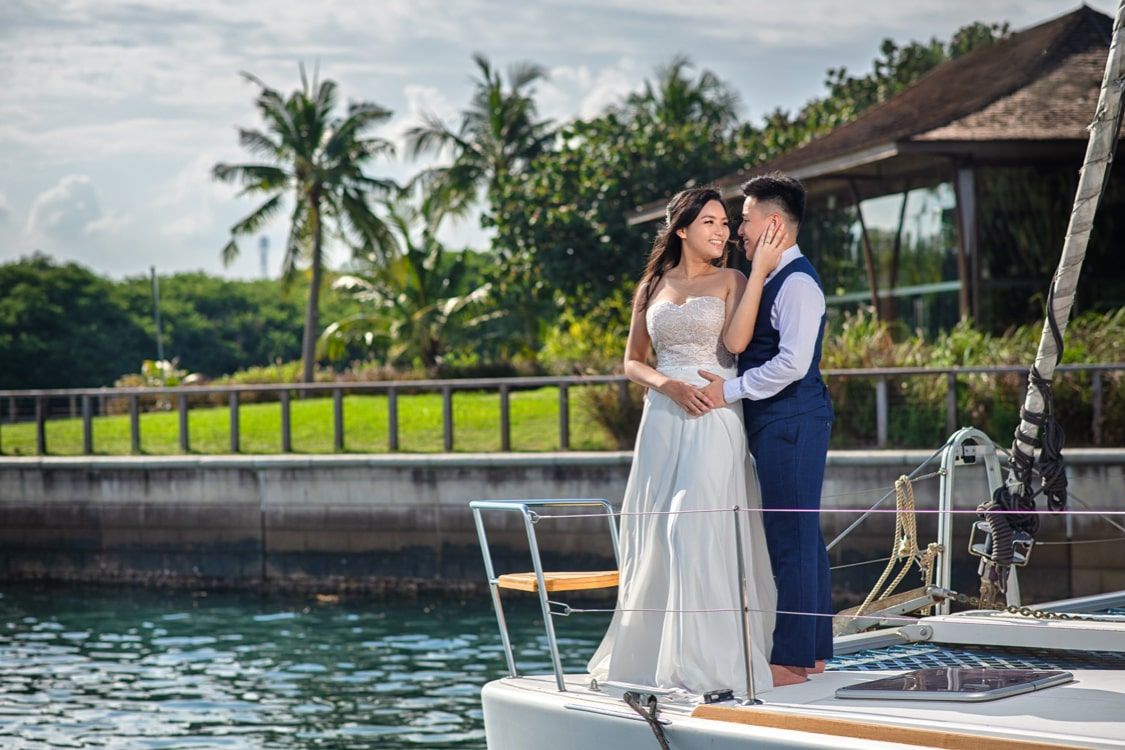 As a privileged Fuzzie member, you can enjoy this exclusive package:
4 Hour round trip to Lazarus Island (You can hop off for water activities or stroll along the pristine beach)
2 x fishing rods
2 x snorkel kits
2 x kayaks
1 x floating mat
Anchor off Eagle Bay beach lagoon for a beautiful, private view of the beach
Fuzzie privilege: 4 hour yacht rental for 2 to 8 pax from $679 (UP $899) - Refer to the Fuzzie App for details.
Learn the history of the Seletar area on a double kayak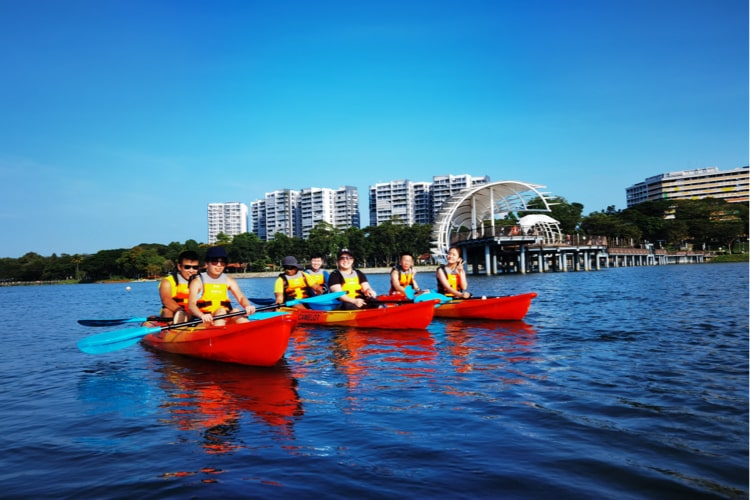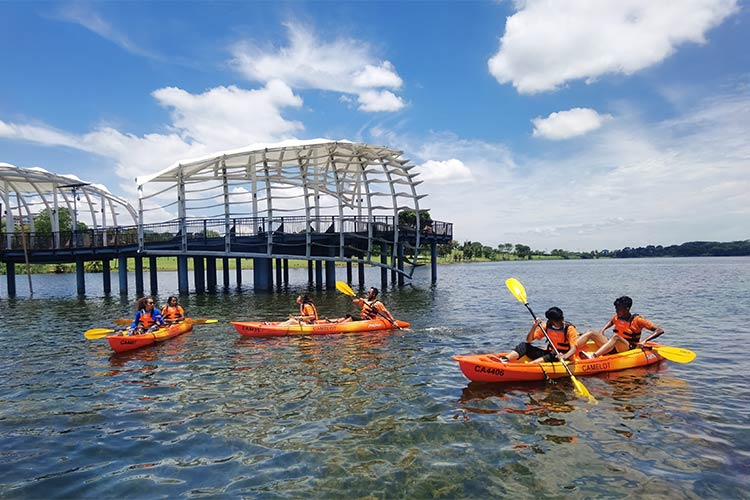 Make your time together both an adventurous and educational one with Camelot's ABC Kayaking Experience - a 2 hour guided tour of the history of Seletar, where you will learn about the flora and fauna of the area while enjoying the calm waters of the reservoir on a kayak.
Want it more intimate? Rent a couple kayak for a free and easy cruise with your partner. Connect with nature and with some luck, you might even spot some of the reservoir's inhabitants, like the white-bellied sea eagle, peacock bass, collared kingfisher and golden-apple snails.
Duration: 2 hours for tour & kayak rental
Public price: $30/pax for tour, $24 for Double Kayak rental
Fuzzie privilege: ABC Kayaking Experience Tour for $20 nett/pax, Double Kayak rental for $22 nett
Location: Lower Seletar Water Sports Centre
Pottery making at Arudio
Craft a beautiful clay cup or bowl with a splash of colour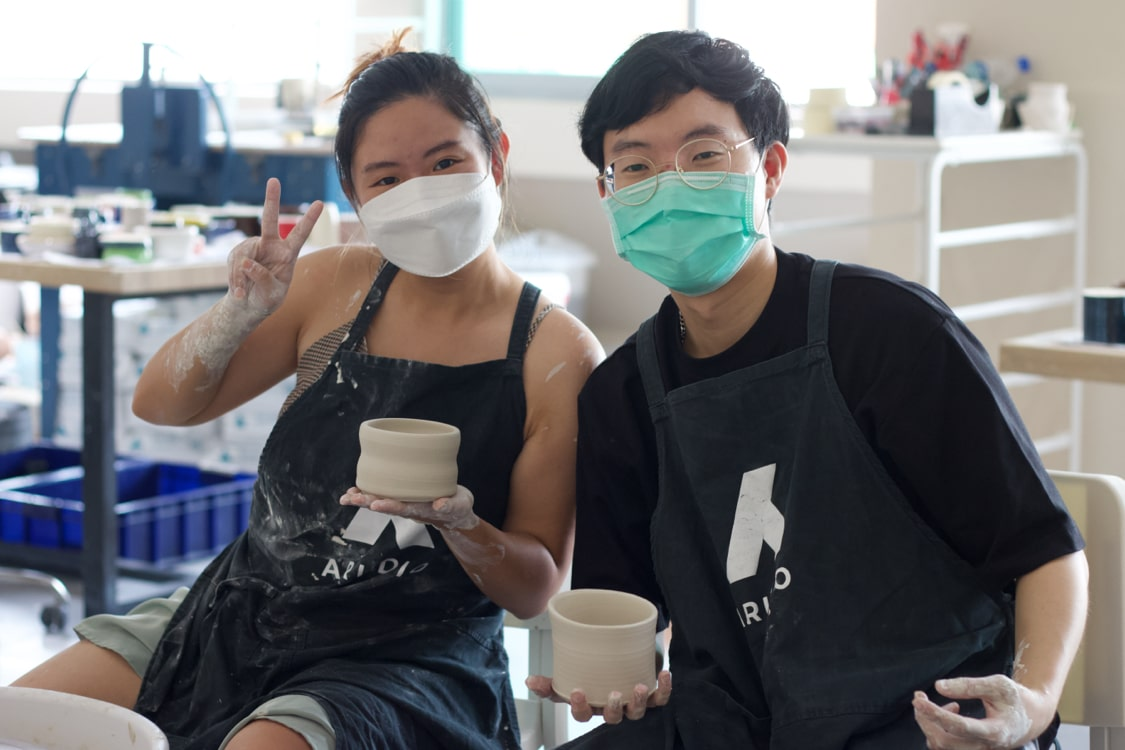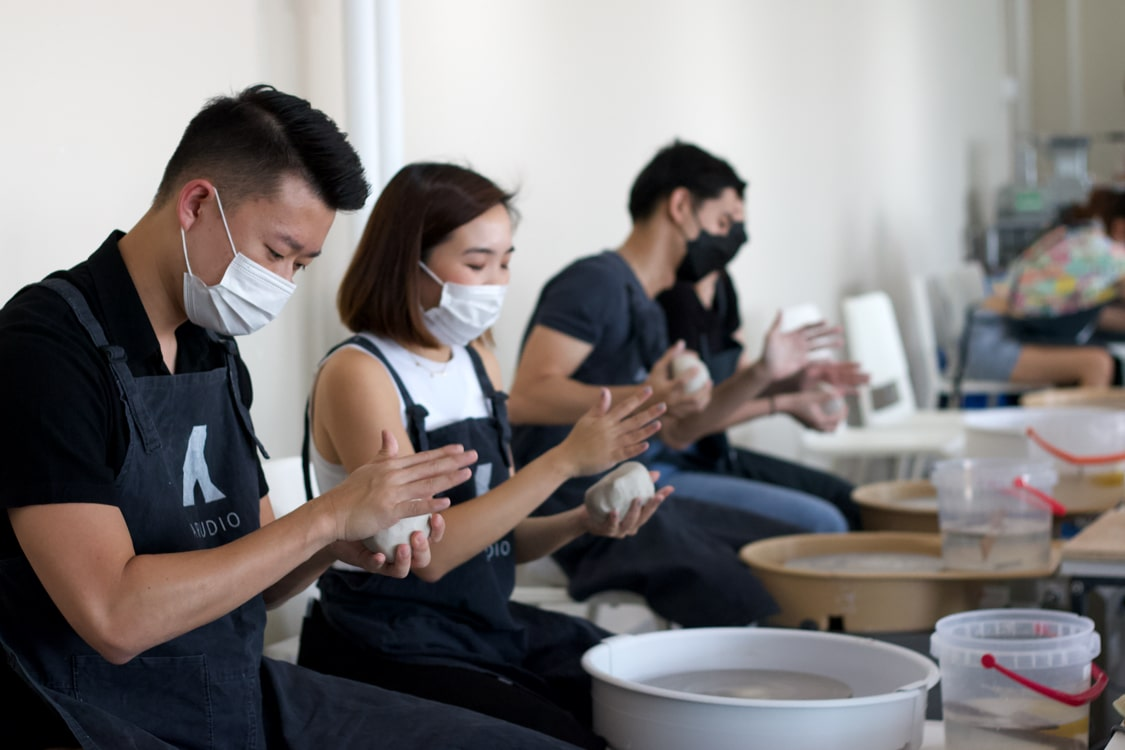 Learn how to handcraft gorgeous ceramic cups, bowls and plates guided by masters from one of the best known pottery studios in Singapore. Within their 3 hour workshops, you'll walk home with beautiful pieces crafted by you and colour glazed to make them even more impressive.
A definite must-try experience, guaranteed to keep you smiling back at the memory each time you pause to admire your handiwork and made even more exciting when you serve your guests at home with them.
Duration: 3 hours
Public price: $70/pax
Fuzzie privilege: 20% off Wheel Throwing Workshop + free colour glazing per item (worth $5 per item), 20% off Short Classes (10 lessons)
Location: Sembawang (main branch), Macpherson
Create your unique couple scent together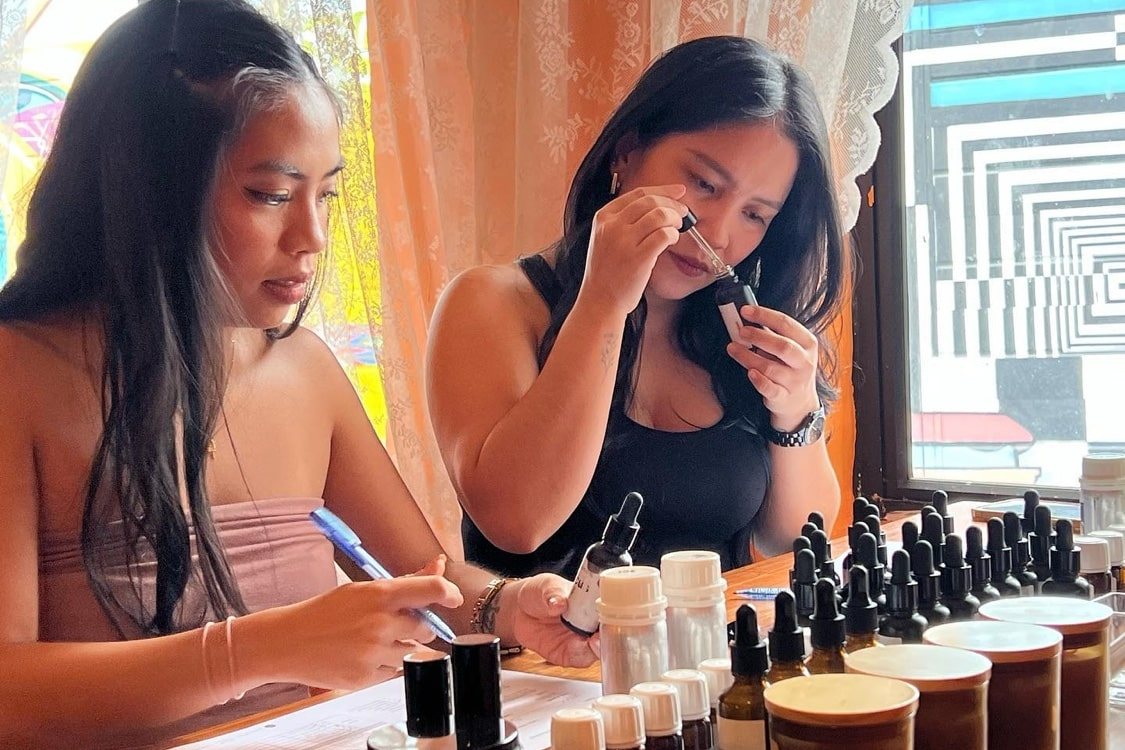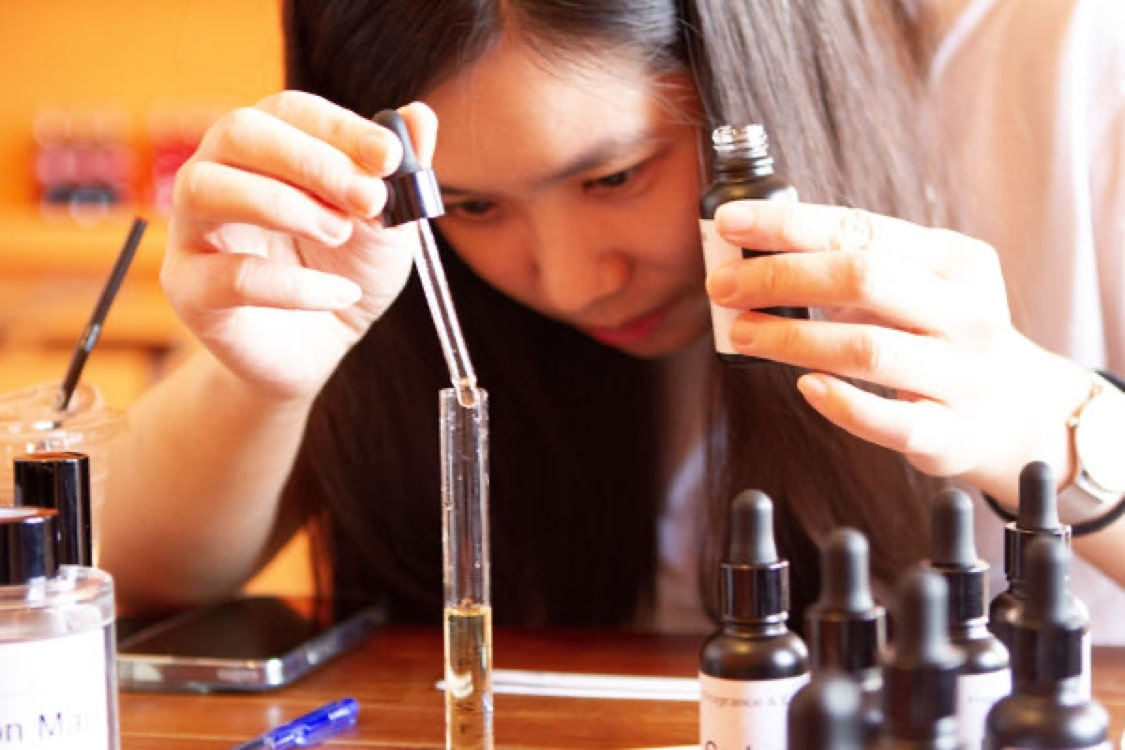 Lose yourself in an olfactory experience like no other with Vcube Ambient Scenting's candle and perfume-making workshops – a perfect activity for a cosy date, a girls' day out, and even as a private event. Learn all about the unique and rare oils that make up a perfume, and create your own personal scent that speaks to your inner soul, guided by Singapore's top scent engineers.
Duration: 2 hours
Public price: From $65/pax
Fuzzie privilege: 30% off Perfume Making Workshop & 30% off  Scented Candle Making Workshop
Location: Arab Street
Express your love with the power of gravity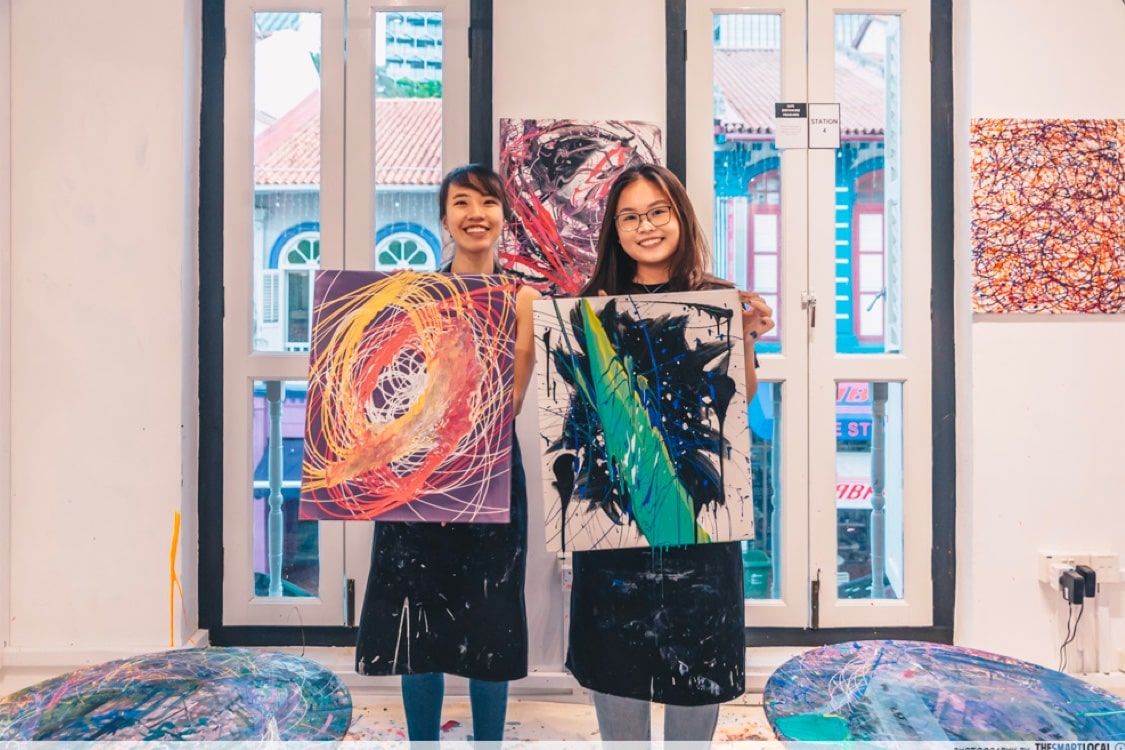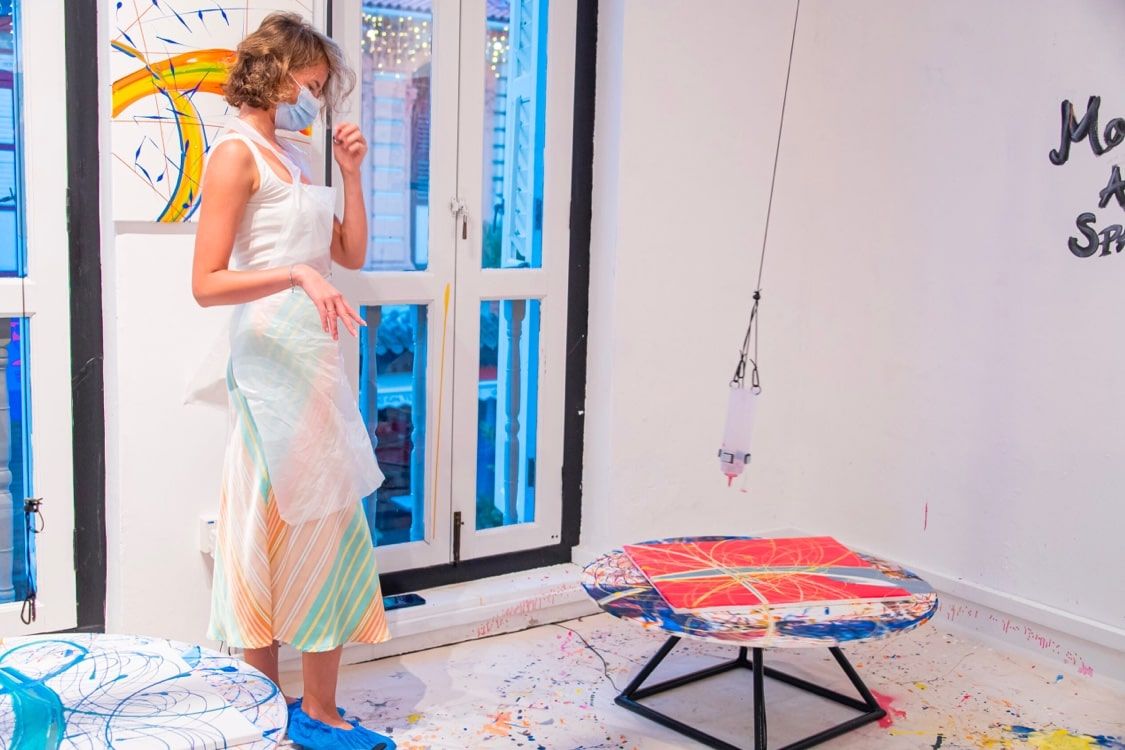 Bugis attractions are not just about food and drinks. Art enthusiasts can also sign up for a curious experience at Motion Art Space: The original motion art jamming with Science. Putting Newton's Law of Motion into practice, you get to create your own abstract masterpiece with paint and a spinning canvas. If you come with zero art background, fret not. Physics will help you to craft your design.
Enjoy this chill and unconventional art session with your date, complete with cool music and good vibes.
Duration: 1 hour
Public price: From $69/pax, Couple Package $129 for 2 pax
Fuzzie privilege: 20% off total bill
Location: Arab Street
Art jamming with pastries & drinks at Café De Paris
Artsy date sweetened with non-dairy BonBon drinks
As the popular saying goes, with the touch of love everyone becomes a poet. Perhaps love can also make an artist out of you. Café De Paris is proof that you can enjoy great food and create great art all in one place. Surrounded by artworks in a dreamy ambience, this is the perfect spot for a cute date.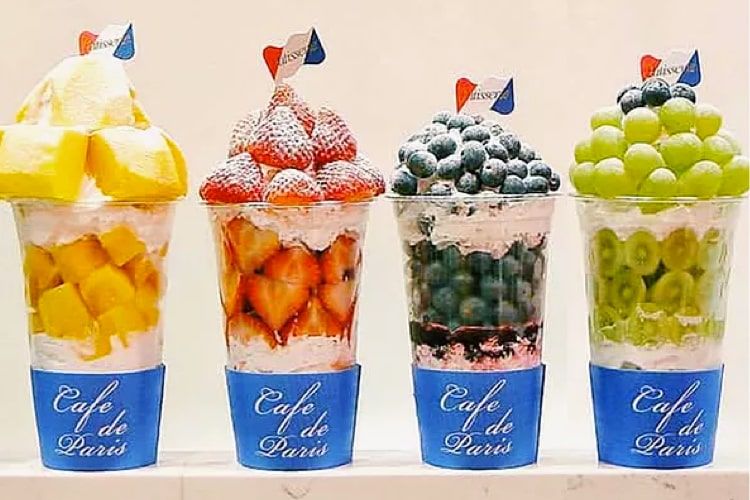 During the art jamming session, you have three hours to unleash your creativity on a blank canvas with your date. Get inspired by anything - nature, your recent life events, other paintings...or even paint each other if you are up for it. Add a sweet note to your date with Café De Paris's signature BonBon drinks, filled to the brim with fresh fruit chunks.
Duration: 3 hours
Fuzzie privilege: Art jamming at $45 for 2 guests with complimentary drinks (UP $110), 1 for 1 cake & drink set worth up to $17.30 each, 25% off regular-priced food and drinks for dine-in and takeaway, and 48% off Fuzzie High Tea Set at $23.80 nett per guest (UP $46)
Location: Somerset 313
Fun getaway for exploring the area with your date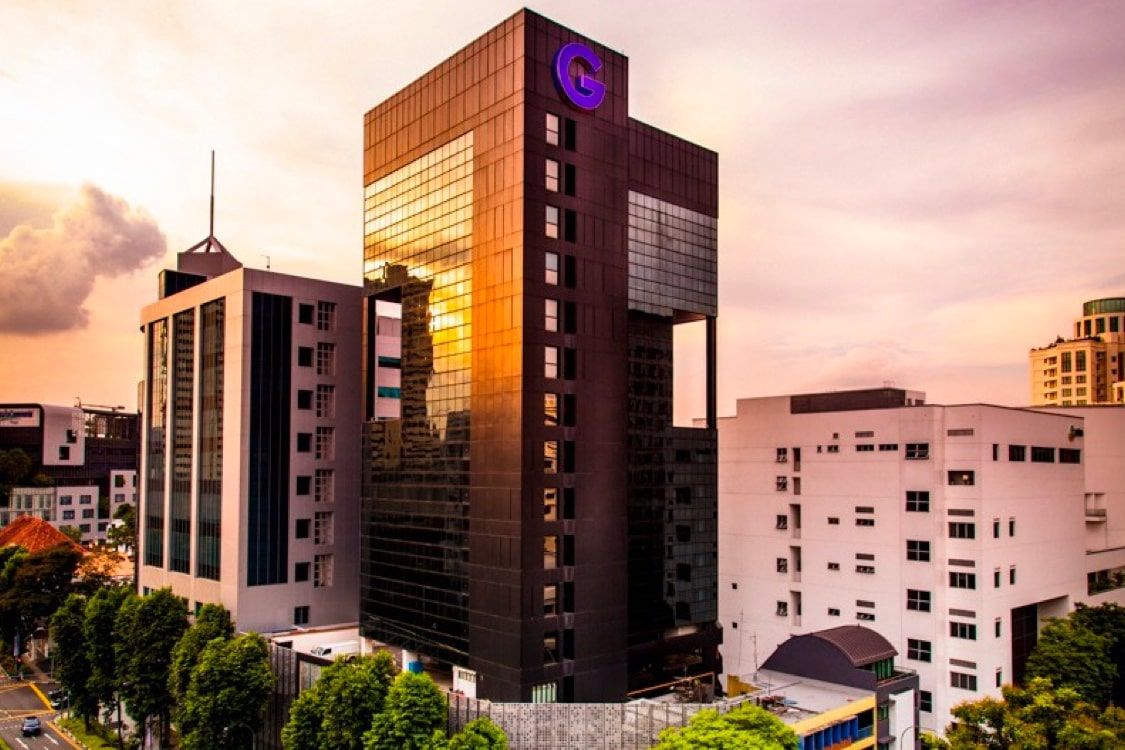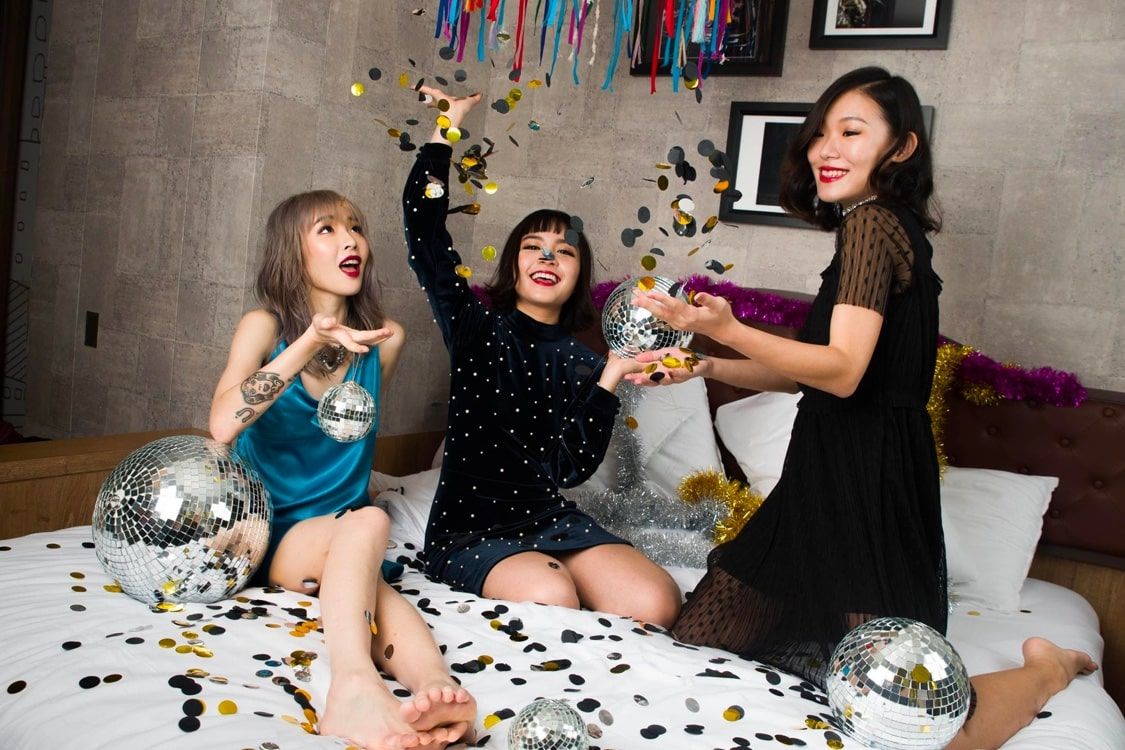 Hotel G is a fun, trend-setting hotel that will help you to recharge with their hip fitness facility, throw a cool party with close friends or spend quality time with your partner. Located in Bugis, the hotel is a launching pad to see sights such as the bustling Bugis street, nurse cups of coffee in cafes, visit temples, watch art performances or go shopping in the malls.  An echo to the street vibes, the vintage décor imbues a sense of nostalgia and lovely backdrops for your Instagram photos.
Your exclusive Fuzzie Staycay Package includes:
Up to 50% off room rates from S$150++/night for Sun-Thu (UP $300++) and S$160++/night for Fri & Sat (UP $320++)
Daily breakfast for 2
Late check out and early check in benefit (subject to room availability)
Complimentary parking
15% off a la carte food items at their famed restaurants
Fuzzie privilege: 2D1N Fuzzie Staycay Package from $150++ (UP $300++)
Bonus: Combine with Fuzzie's F&B privilege for their restaurants:
25 Degree Burgers: 15% off a la carte food + free glass of wine for each paying diner (dine in)
Ginett Restaurant & Wine Bar: 15% off a la carte food + free glass of wine for each paying diner (dine in), 1 for 1 wine bottle (takeaway)  (temporarily unavailable as we brew better offers for you)
Location: Bugis
Play your favourite F.R.I.E.N.D.S character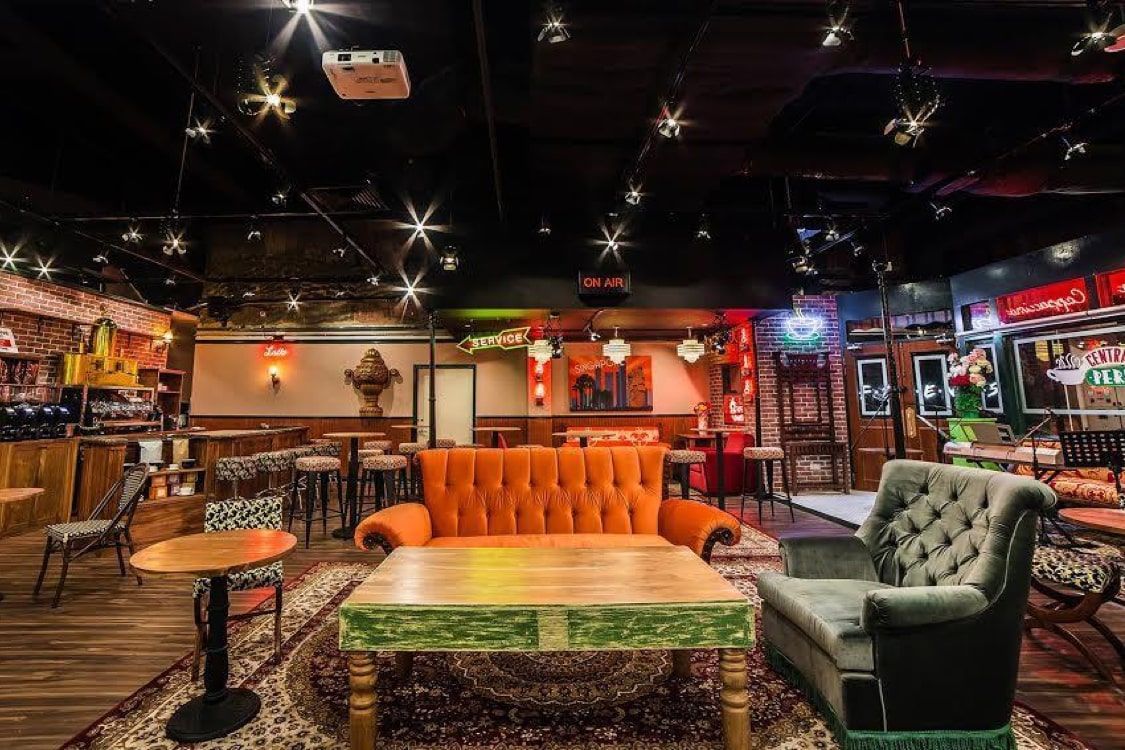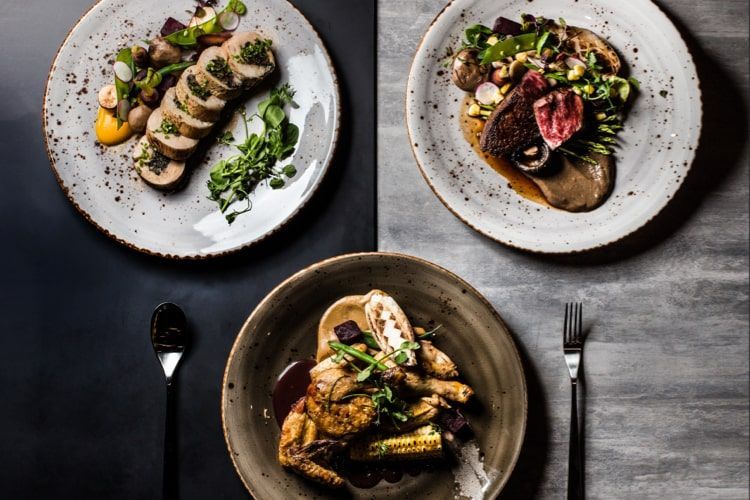 Are you a diehard fan of F.R.I.E.N.D.S? Now is your chance to channel your inner Ross and Rachel with your date at the sitcom-themed Central Perk cafe. The details that go into its decor will impress you. Expect to find bits and pieces of every major character there, such as Monica's kitchen, Phoebe's cat in the guitar case, Chandler and Joey's foosball table, to name just a few.
Besides the nostalgic element, Central Perk also offers creative dishes with iconic F.R.I.E.N.D.S references. Be sure to try out Oh my God Baby Black Ribs, Chandler's Edible Helium Balloon, and Ahh Unagi. This would be a date to remember.
Fuzzie privilege: 30% off mains, pasta, and signatures (dine-in & takeaway)
Location: Central Mall (Clarke Quay)
Metaverse escape room adventure by Virtual Room
Save the world together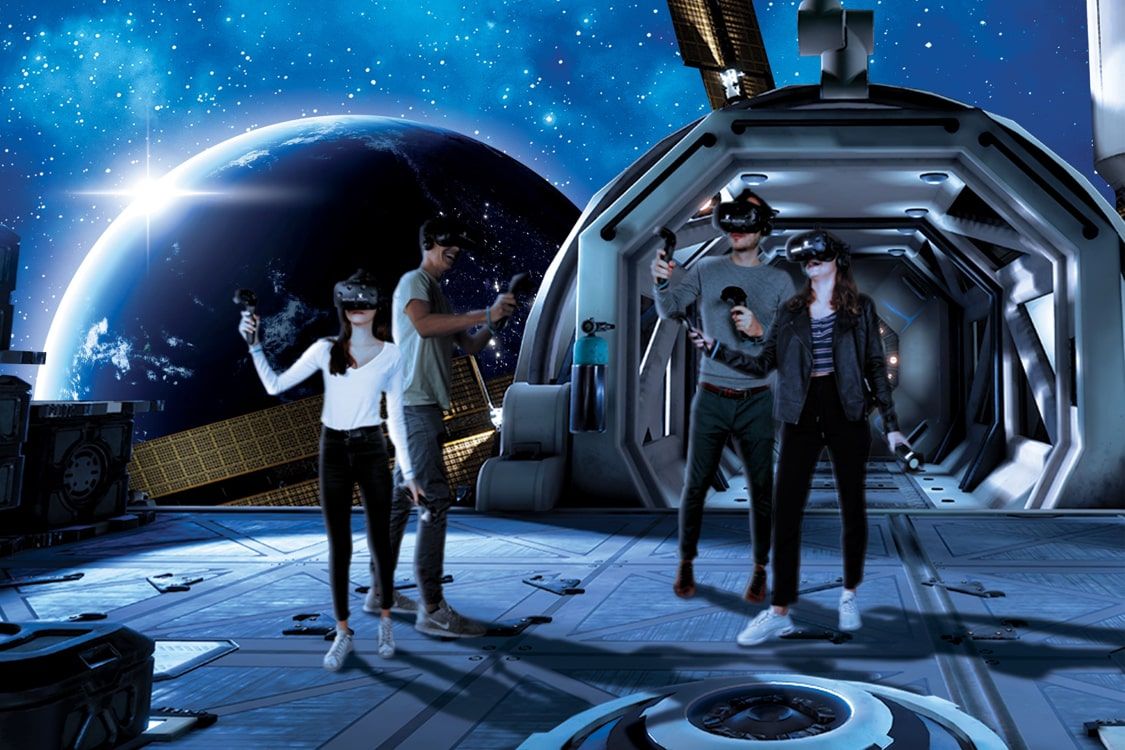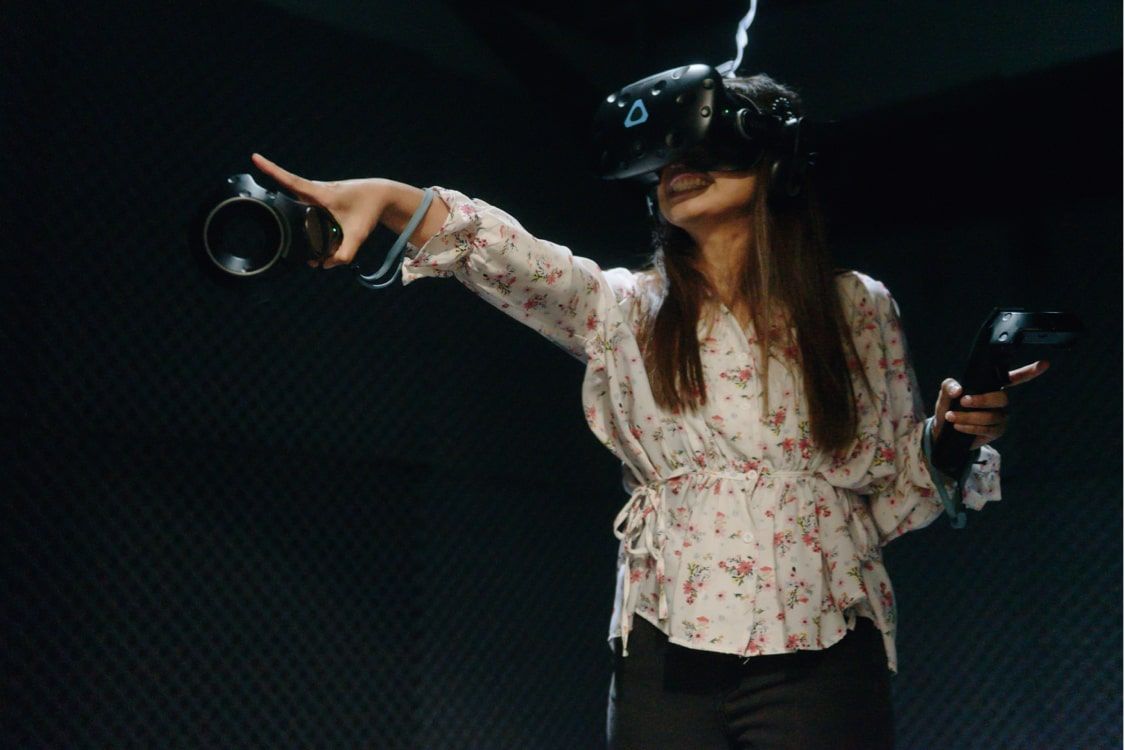 Work together to solve unconventional puzzles while wearing a VR headset in this must-try virtual reality experience. You can talk, walk, bend over and even throw objects at each other once you are in the room. Enjoy quality bonding time with your partner through a collaborative effort.
Duration: 1 hour
Public price: From $44/pax
Fuzzie privilege: 25% off total bill
Location: Lucky Chinatown
Flush out all the negative energy for a healthier relationship
Release built-up stress with some rage therapy. Smash everyday items like keyboards, monitors, glasses, and more. Walk out feeling lighter and refreshed. Smash gears are fully provided.
Your Fuzzie Couple Package for weekdays covers:
45 mins of play time for 2 pax
30 mins Beat Mode with 1 crate of breakables
Smash & safety gears included
Public price: $103
Fuzzie privilege: Couple Package for $63 (inclusive of booking fee)
Location: MacPherson Road
Melt away into zen romance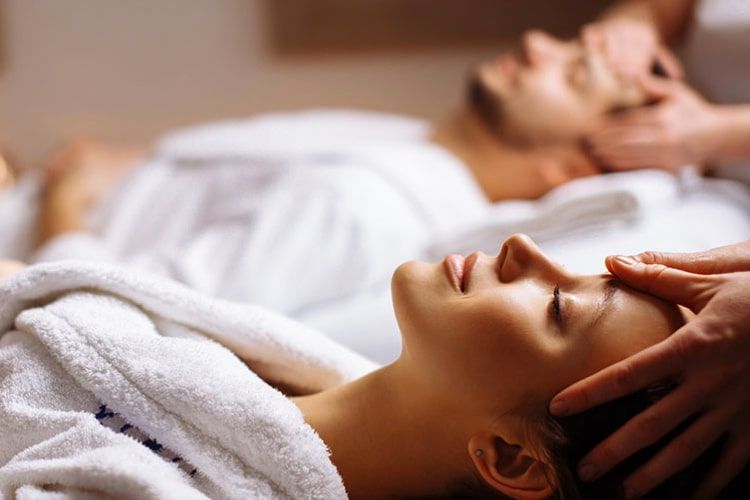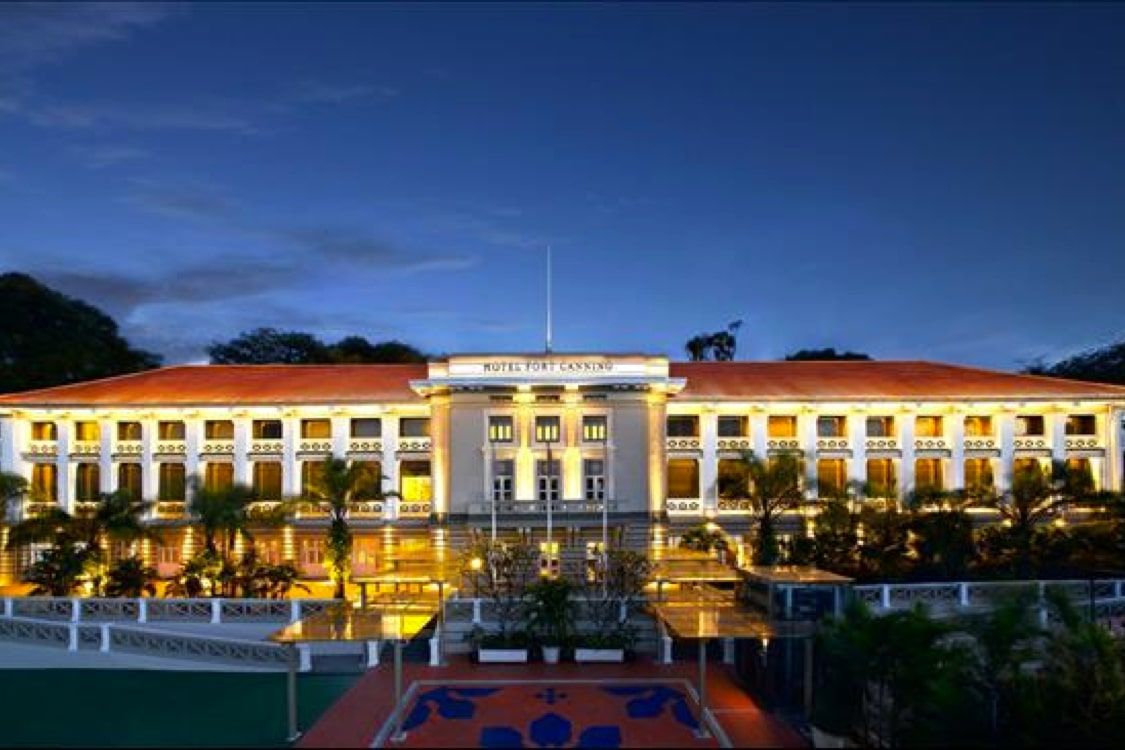 Ease your stress and fully immerse in zen calmness with the specially curated Fuzzie Tranquility Escape:
Full Body Massage (option of Swedish or Signature) - 60 mins
1 Foot soak - 10 mins
1 Scented back scrub - 10 mins
Fuzzie privilege: Enjoy the 80 minutes Fuzzie Tranquility Escape at $108 nett (UP $170) for singles and $208 nett (UP $340) for couples. Members also can enjoy 1-for-1 60 minute Organic Aromatherapy Facial with Couple Room at $158 nett
Fuzzie Promise: No hard-selling, just great quality service
Location: Hotel Fort Canning (next to Plaza Singapura)
Luxury couple spa in Orchard Road with Adeva
Blissful massage and steam bath in couple room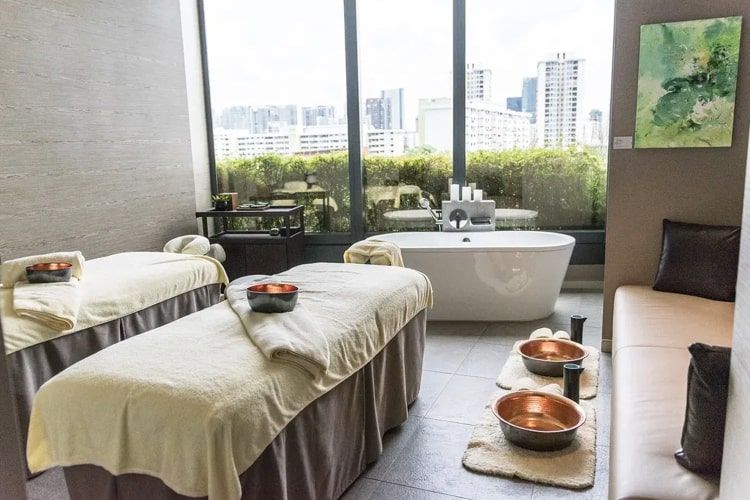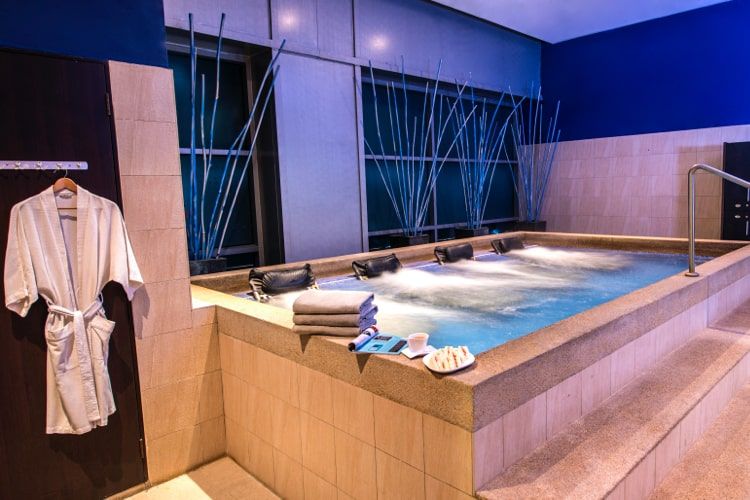 Having won multiple accolades from Harper's BAZAAR, The Women's Weekly, Cosmopolitan and Her World; Adeva has even clinched the Country title for Luxury Destination Spa in the 2019 World Luxury Spa Awards.
Nestled in the rooftop haven at Paragon, Adeva's facilities include private and couple spa suites, hydrotherapy zones, and relaxation lounges. You'll be treated to a unique sensorial experience and a welcome respite from the hustle and bustle of the city.
Fuzzie Body Rejuvenation Therapy: In collaboration with Adeva Spa, we have developed this exclusive spa retreat just for you. Available for couples or singles, our package will have you feeling pampered and relaxed. Package includes:
1 Hour Aromatherapy body massage & back mask
30 Mins Steam bath & shower
Inclusive of premium gold oil
Fuzzie Privilege: Enjoy the Fuzzie Body Rejuvenation Therapy for $108 (UP $450) for singles and $208 (UP $752) for couples as well as 30% off a la carte menu
Fuzzie Promise: No hard-selling, just great quality service
Location: Paragon
Capture fun shots with Dollop Automat - Self Service Studio
15 minutes in your own private studio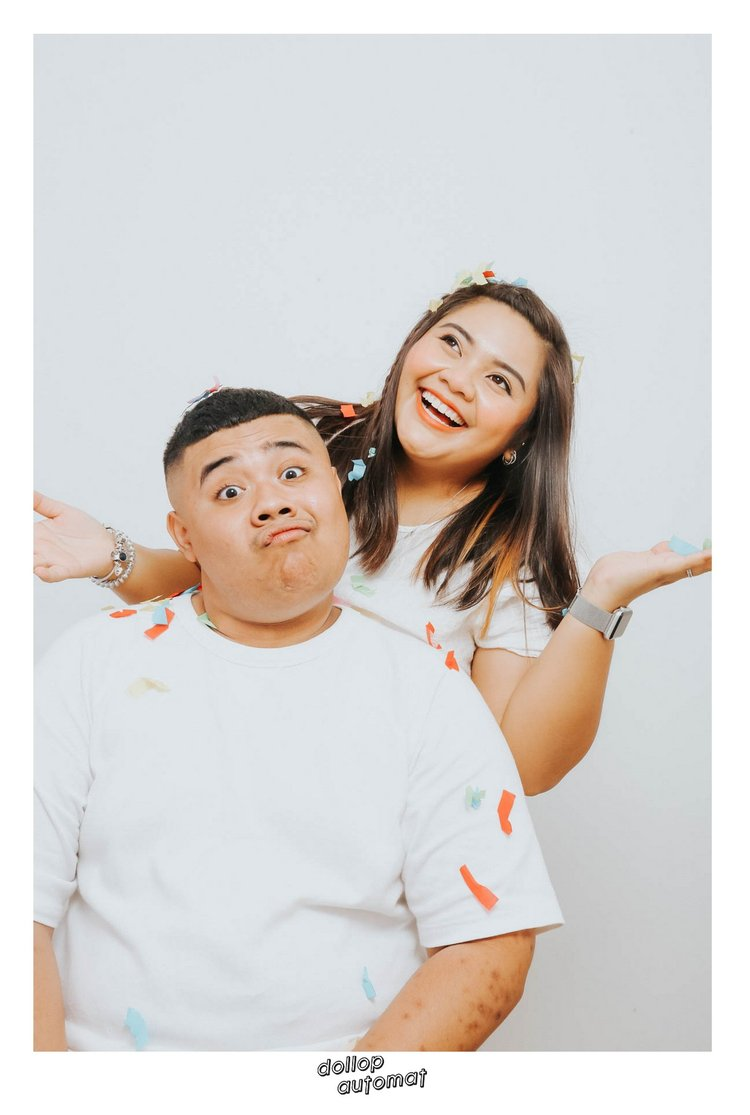 Take all the cute and fun photos you want in Dollop's latest photo booth concept — the Korean-inspired black and white self studio. They've taken up a beautiful studio space in Arab Street, transforming it into a private studio where you can let your imagination run wild with 15 minutes of unbridled fun complete with props (fully disinfected after each session) and backdrops.
Fuzzie Privilege: 30% off total bill
Location: Arab Street
Enhance your dating experience:
Gift a luxury preserved rose from Enchanted Fiore
Capture the heart of your date with a beautiful preserved flower that lasts a year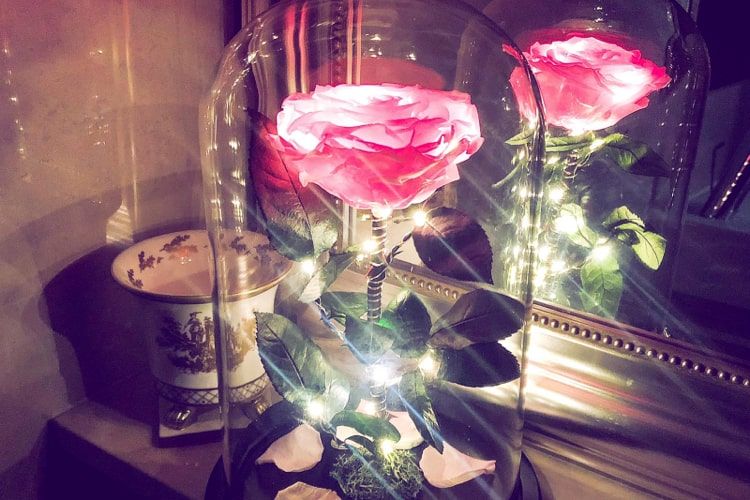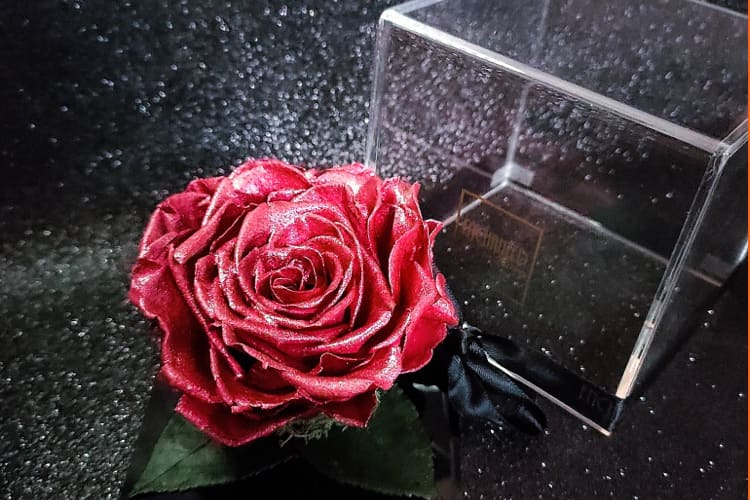 Made from real flowers, preserved roses last for a year and are a sensation in New York, Korea and Japan. Enchanted Fiore brings you classy and beautiful designs with personalised customisations as every piece is crafted to order along with an impeccable customer service. You can choose from a wide range of designs to suit the feel you would like to create.
Your gift will leave a truly warm and fuzzy feeling for your date to remember you by.
---
About Fuzzie- The game-changing corporate privilege club everyone is talking about
Fuzzie is an invite only, all-in-one privilege club that grants you special access to thousands of exclusive benefits on food, spas & massages, cars, staycations, gym & fitness, personal grooming, kids, pets, home, activities, dental, healthcare and many more. As a sign up bonus, you will immediately enjoy over $2000 worth of free gifts with no spending required. Stretch your dollar to save thousands each year as Fuzzie quickly becomes an essential part of your family's life.
If your company does not have access to Fuzzie yet, ask your company HR/management to contact us at hello@fuzzie.com.sg and we'll help you to quickly get set up . Learn more about us.