Go over the moon with Fuzzie: Decadent mooncakes and big savings this Mid-Autumn Festival
With our carefully curated selections and exclusive savings, Fuzzie is the most desirable place everyone is wishing they can get to for their mooncake shopping this year.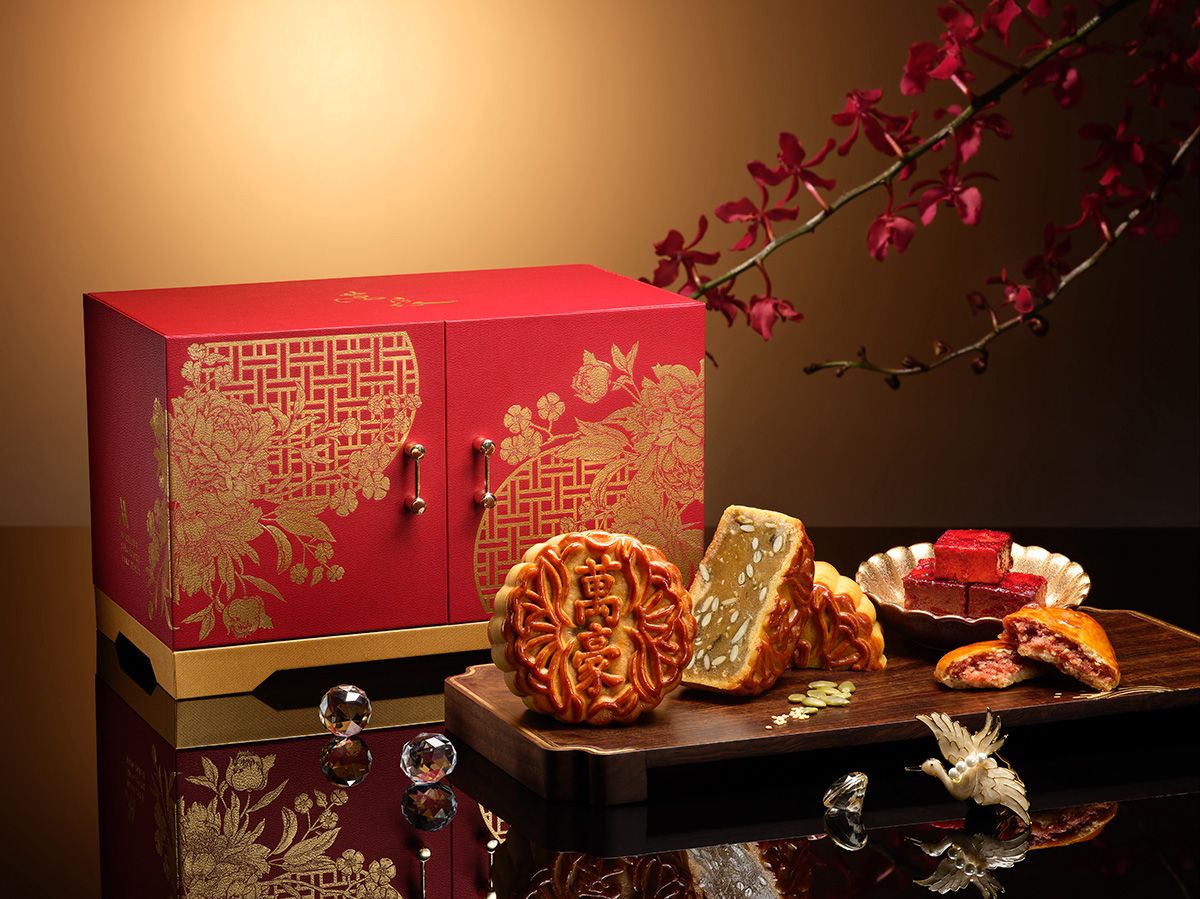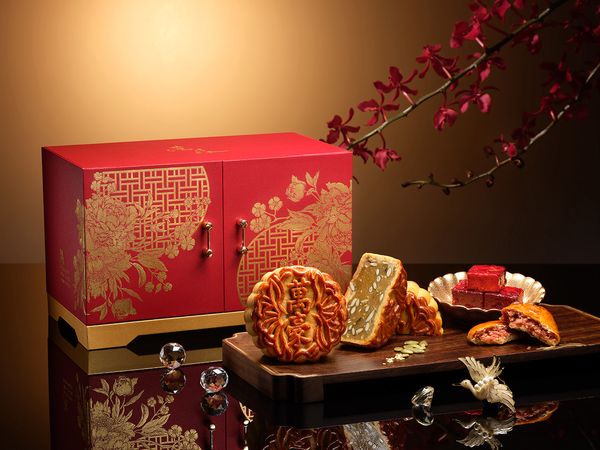 I know what you might be thinking: "Mid-Autumn Festival is on 21st September. That's not for another whole month, so why should I buy now?"
We're here to tell you why it's never too early. In today's article, we'll help you understand 3 things:
What is the significance of the Mid-Autumn Festival?
Why you should start shopping for mooncakes now?
Where you should start looking?
Let's get started!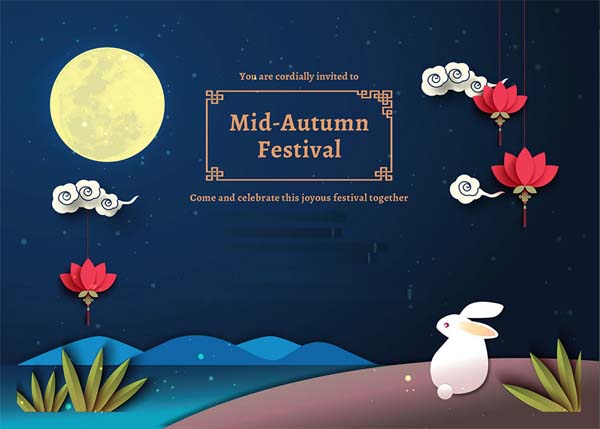 What exactly is the Mid-Autumn Festival?
The Mid-Autumn Festival is a popular celebration among Singaporeans. It's also known as the Mooncake Festival, and celebrated by many East and Southeast Asian people.
Because the Mid-Autumn Festival is held on the fifteenth day of the eighth month of the Chinese lunar calendar, on a full moon day, mooncakes are the food of choice on this holiday. These cakes are filled with sweet-tasting bean paste or with lotus seeds. But these days, chefs have put their own unique spin to create decadent mooncakes that leave many in awe.
Why you should start shopping for mooncakes now?
Despite the fact that it's not a recognized public holiday in Singapore, Singaporeans eat mooncakes together with their family, or present mooncakes to relatives and friends to express love and best wishes during the Mooncake Festival. I mean, with such intricate and elegant packaging, mooncakes are the perfect gift to express your gratitude.
Going to your in-laws (or future-in-laws) home soon? Score some brownie points (or should I say mooncake points) by gifting them a box of mooncakes.
You might be thinking "But...it's August." Well, as they say, "The early bird catches the worm." Buying your mooncakes now let's you enjoy awesome Early Bird prices before they're all jacked up when the official festival draws near. Besides, you don't want your favourite flavours to run out when you shop last minute, do you?
I'm convinced. Where should I buy my mooncakes?
The best answer? Fuzzie.
Now that you've decided to be smart and make your mooncake purchases earlier, we'll let you in on some secrets for even smarter purchases.
Be over the moon with Fuzzie's amazing mooncake merchants.
Famous for their colourful and unique Chocolate Mooncakes.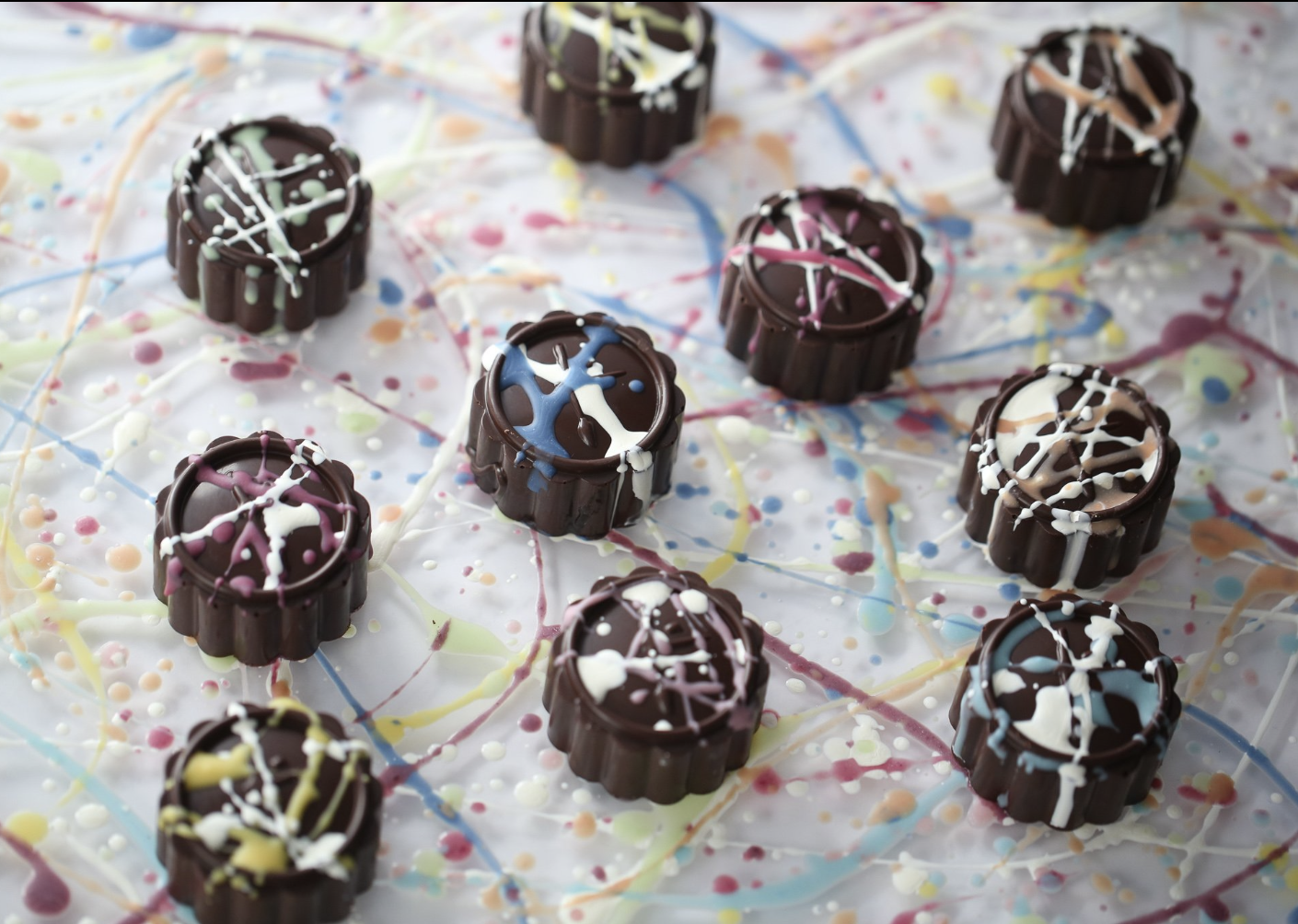 Are those mooncakes? Or pieces of art? These gorgeous hand-made mooncakes are not just beautiful to look at, they're delicious too.
For Mid-Autumn Festival this year, Chef Janice Wong, regarded as one of the best pastry chefs in Asia, provides an eye-opening selection of baked, snow skin, and trademark chocolate mooncakes. Chef Janice continues to blend food and art in a seamless manner, as seen by her distinct flavours and imaginative creations, which are a highlight of the yearly event.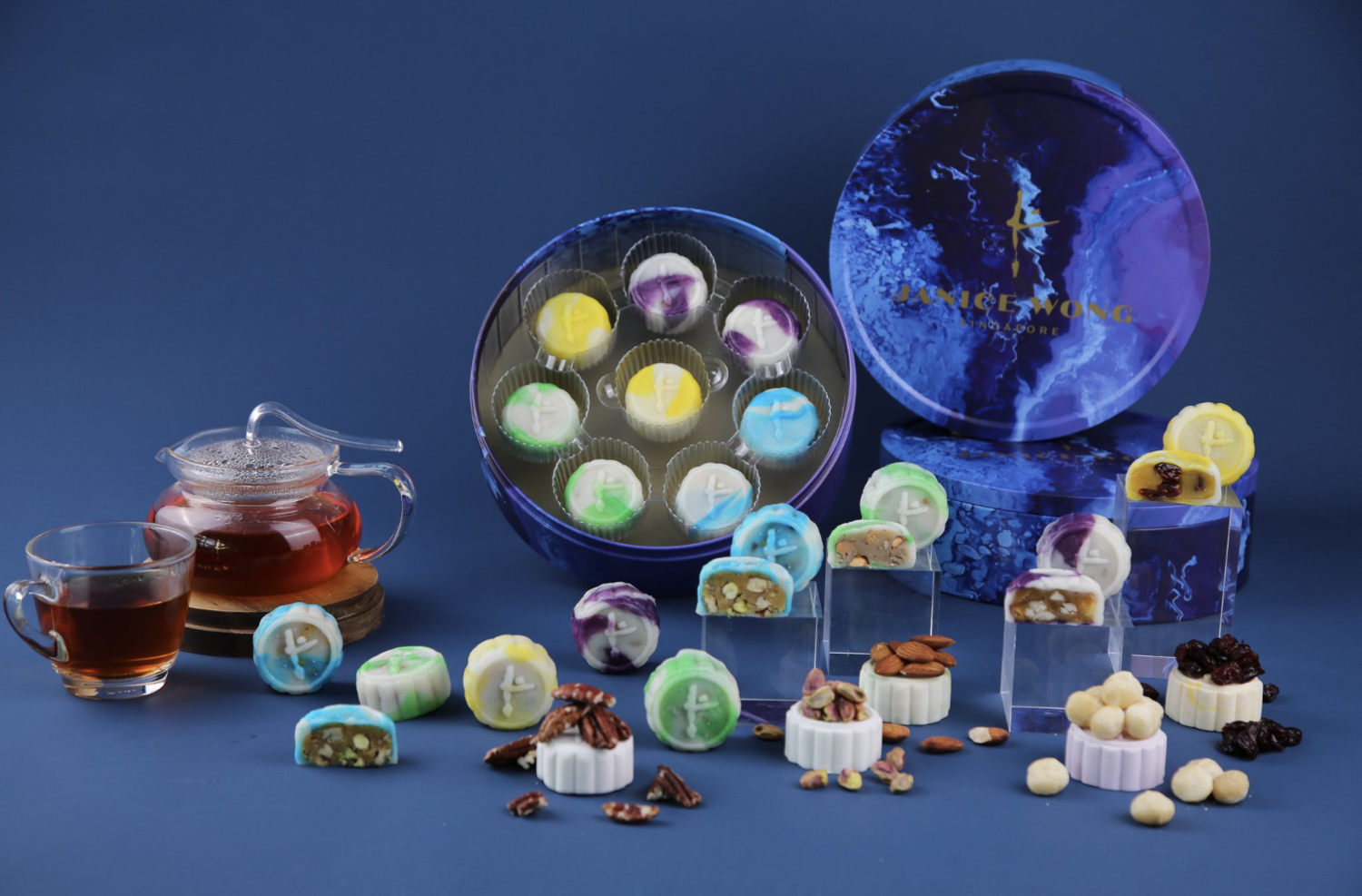 Particularly unique is the brand's Snowskin Mooncakes. They are made in collaboration with Tai Sun, a local homegrown and leading snacks brand featuring Nature's Wonder premium range of dried fruits & nuts with flavours like Yuzu Cranberry, Mung Bean Pistachio, Coconut Pecan Baked Almond, and Gula Melaka Macadamia.
If you're looking for something traditional, you won't go wrong with the brand's traditional baked mooncake – Double yolk with lotus paste. While you're at it, be sure to pick up a box (or two, or three?) of Chocolate Mooncakes, the brand's signature mooncake since their launch. Be wowed by yummy flavours like Peanut Butter Snickers, Coffee & Chocolate, Coconut Vanilla Biscoff, Caramelised Sea Salt Pecan & Dark Chocolate.
Fuzzie Privilege: Members enjoy up to 40% off mooncakes from 1-31 Aug and 15% off  from 1-20 Sep for delivery and self-collection (no min spend).
Artistically handcrafted by their award-winning Wan Hao Chinese Restaurant.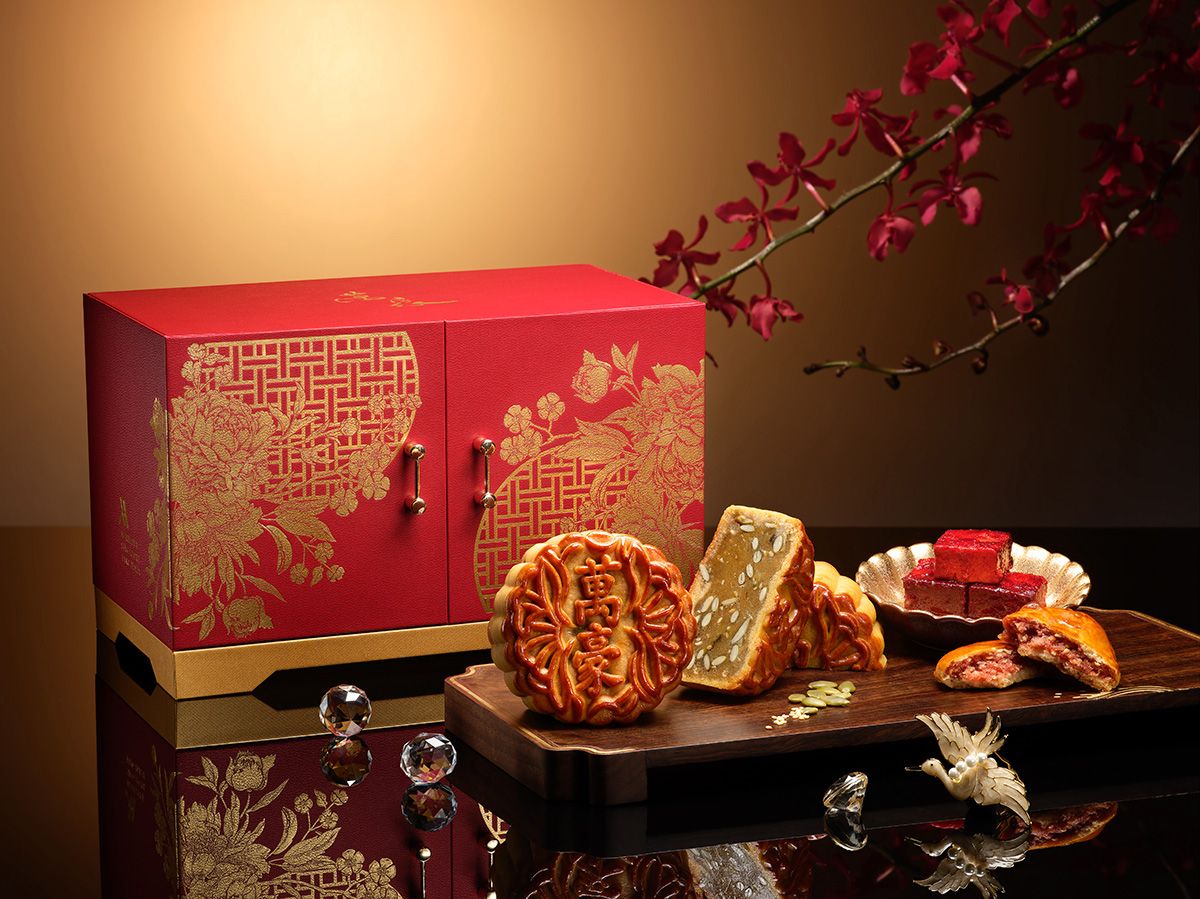 Mooncake lovers will be familiar with the mooncakes from the popular Marriott Tang Plaza Hotel. This year, they are once again going above and beyond to enthral taste buds with signatures as well as new creative mooncakes that are crafted with high quality ingredients and epitomize creative artistry.
The hotel's award-winning mooncakes are handcrafted with love and come in 11 delightful flavours. Those who prefer baked mooncakes can look forward to new creations like Green Bean Paste with Pumpkin Seeds "Gai Zai Bing", which will evoke a sense of nostalgia.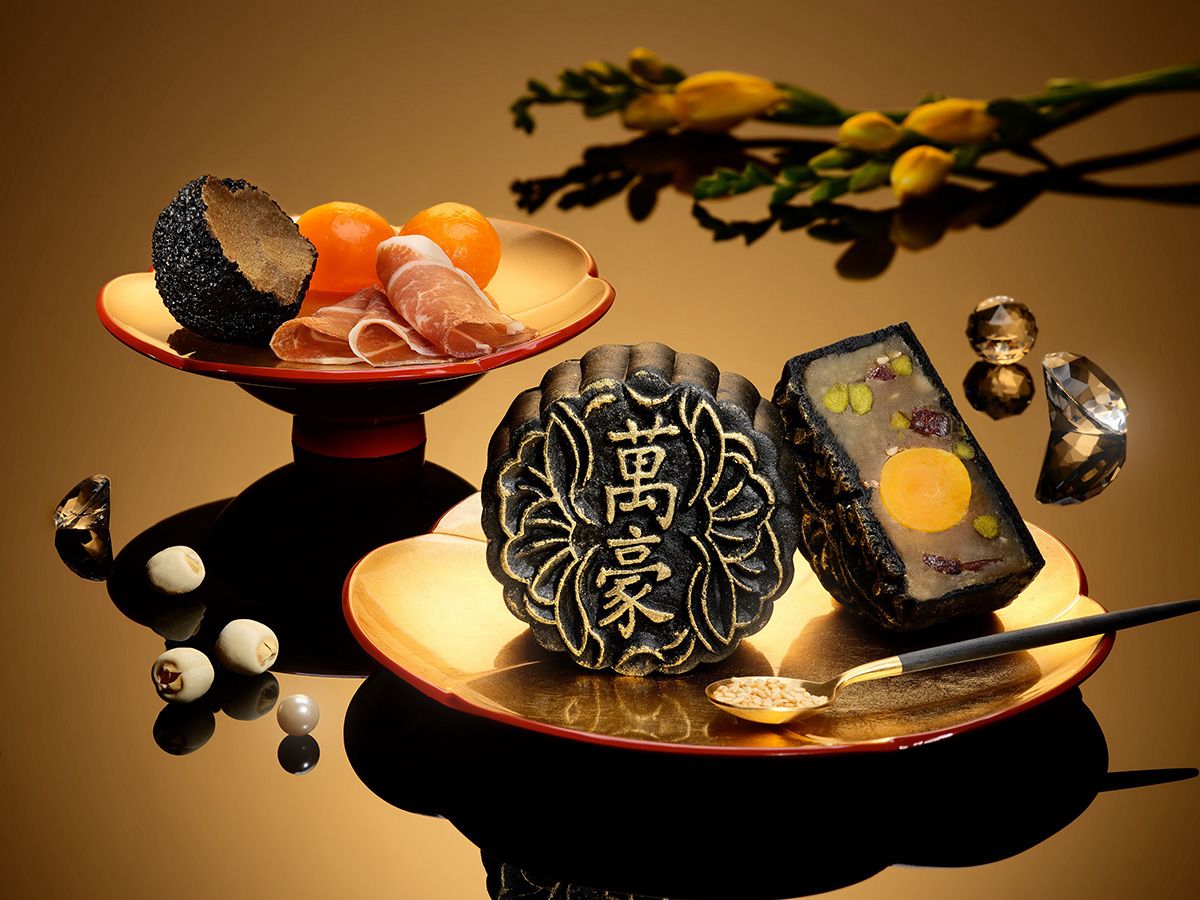 Those on team-snowskin will like the brand's unique snowskin flavours like Champagne Truffle with Milk Green Bean Paste, Cognac Truffle with Chestnut Paste, White Rabbit Truffle with Cranberry Paste, and White Lotus Seed Paste with Salted Egg Truffle. We love that these flavours feature a mix of the traditional and the modern, making them the perfect treat for the whole family.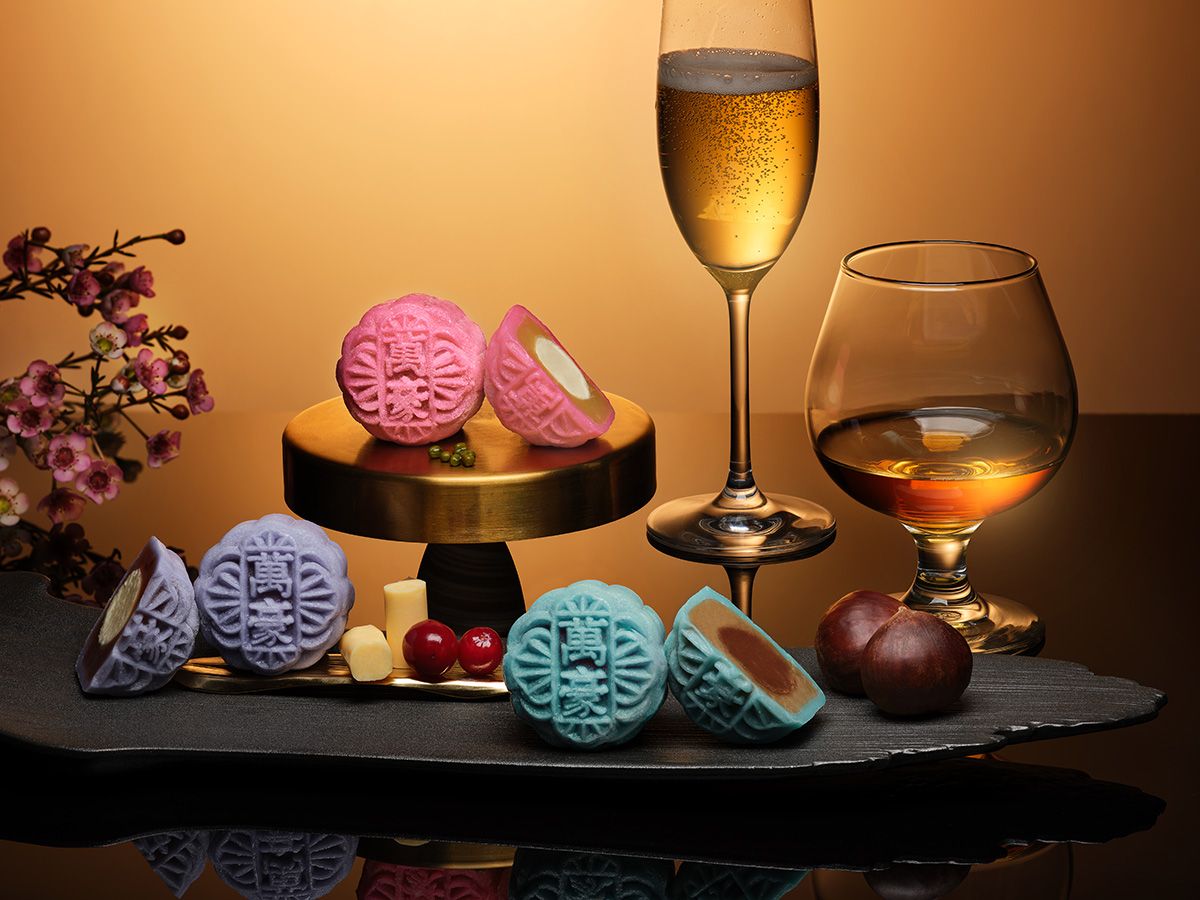 Fuzzie Privilege: $50 nett for a box of handcrafted mooncakes (UP $88 nett)- self-collection (no min spend).
Simple elegance.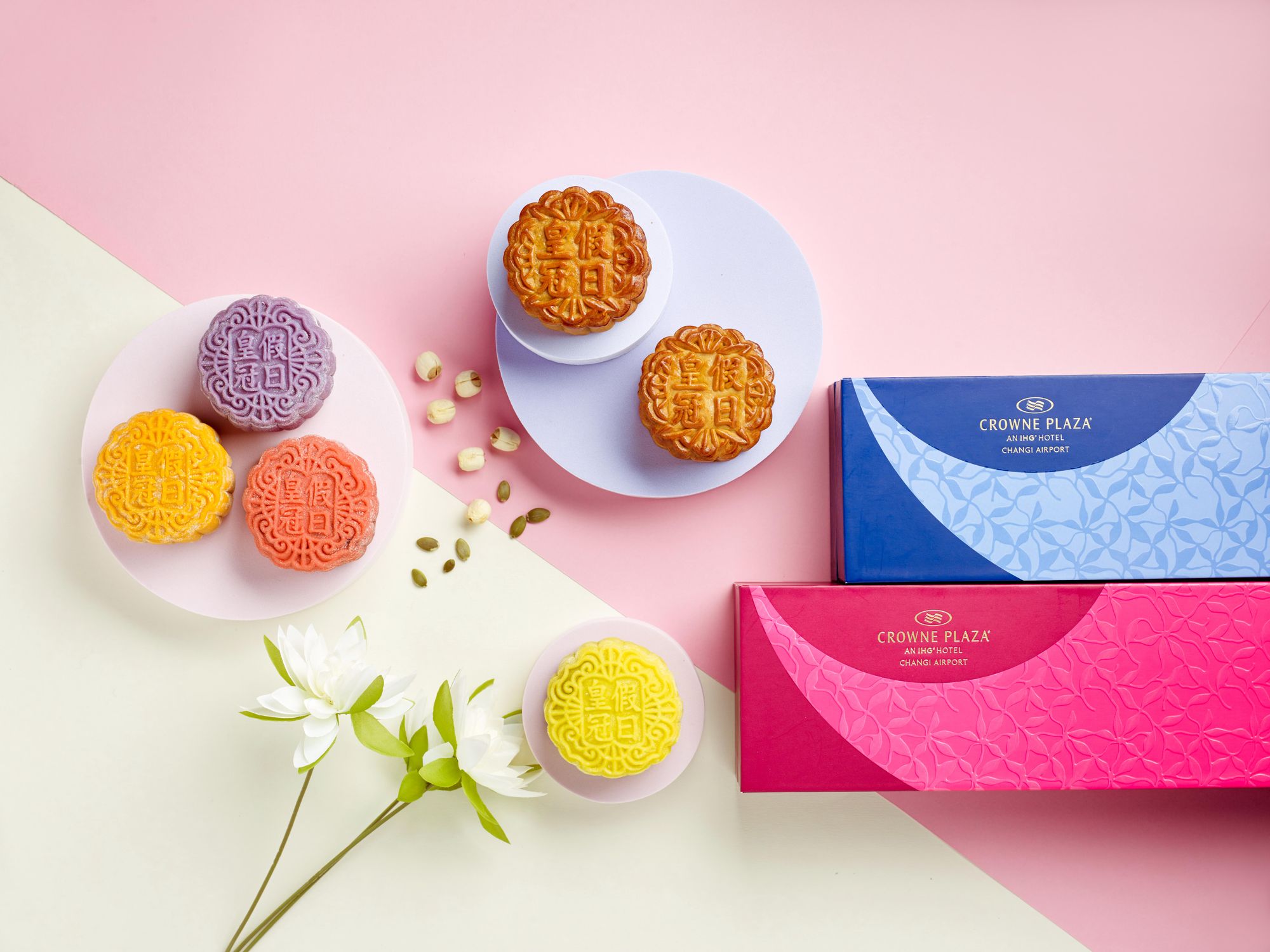 It's official: We've finally found a reason to go to the airport in 2021. No flights or travel this year, but that doesn't stop us from stopping by Crowne Plaza Changi Airport to indulge in their premium selection of mooncakes.
Joining the line-up of this year is the refreshing White Lotus Orange Paste with Melon Seeds alongside all-time favourites such as the White Lotus Paste with Single and Double Yolk, Low Sugar White Lotus Paste with Macadamia Nuts and Nyonya Mixed Nuts Baked Mooncakes.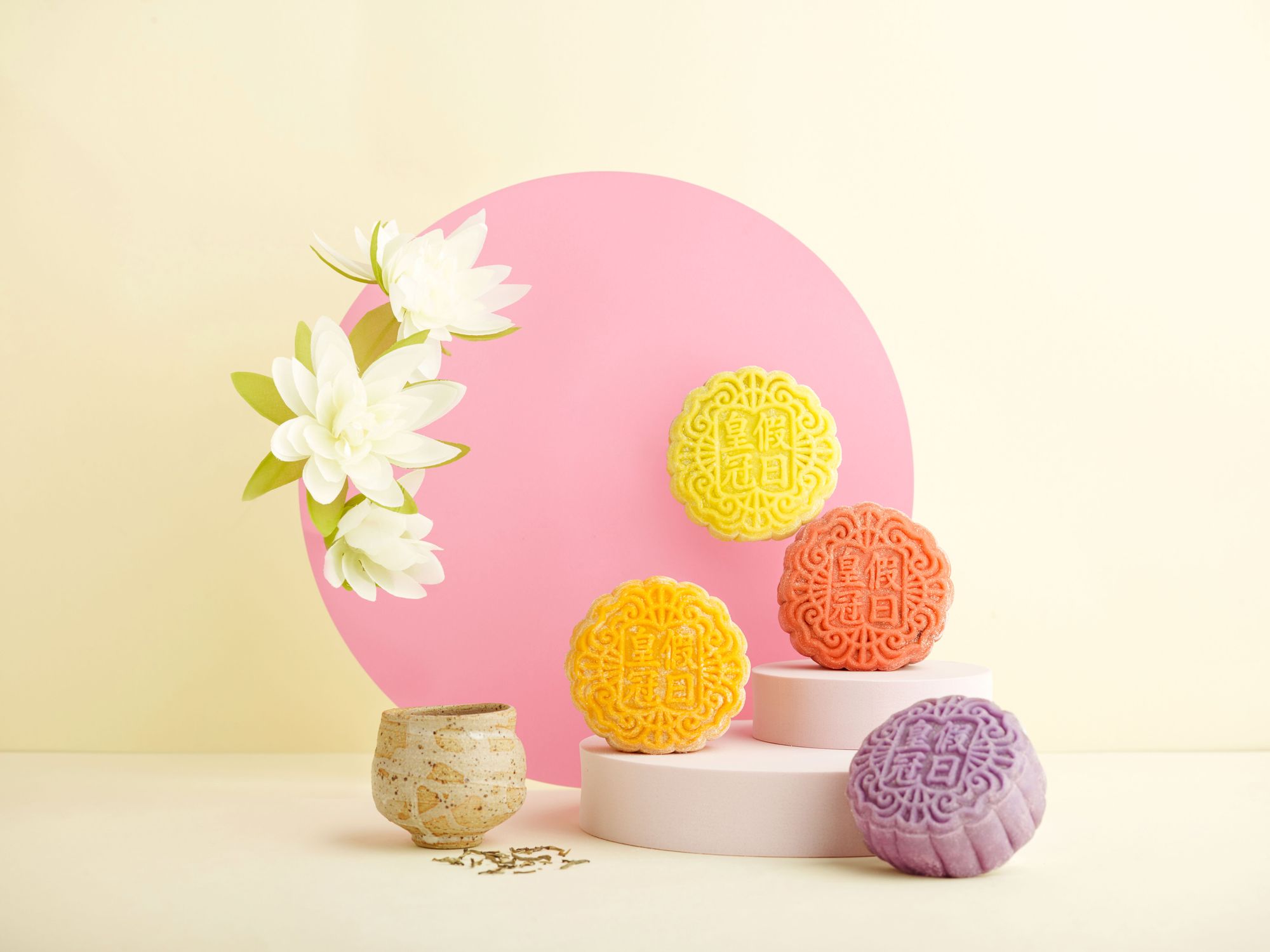 Crowne Plaza's snowskin selection comes in locally-inspired flavours like Mango Pomelo and Orh Nee (Yam Paste with Gingko Nuts) and delectable new flavours - Yuzu and Adzuki Beans.
So, go ahead and illuminate the hearts and homes of family and friends with delectable Snow Skin Mooncakes in the Vibrant Plum box and Traditional Baked Mooncakes in a Royal Blue box. Did we mention that these elegant gift boxes are adorned with orchid motifs reminiscent of Crowne Plaza Changi Airport's iconic façade? Definitely a box to keep.
Fuzzie Privilege: Members enjoy 35% off all mooncakes- self-collection (no min spend).
Must try their famous Durian Ice Cream Mooncakes.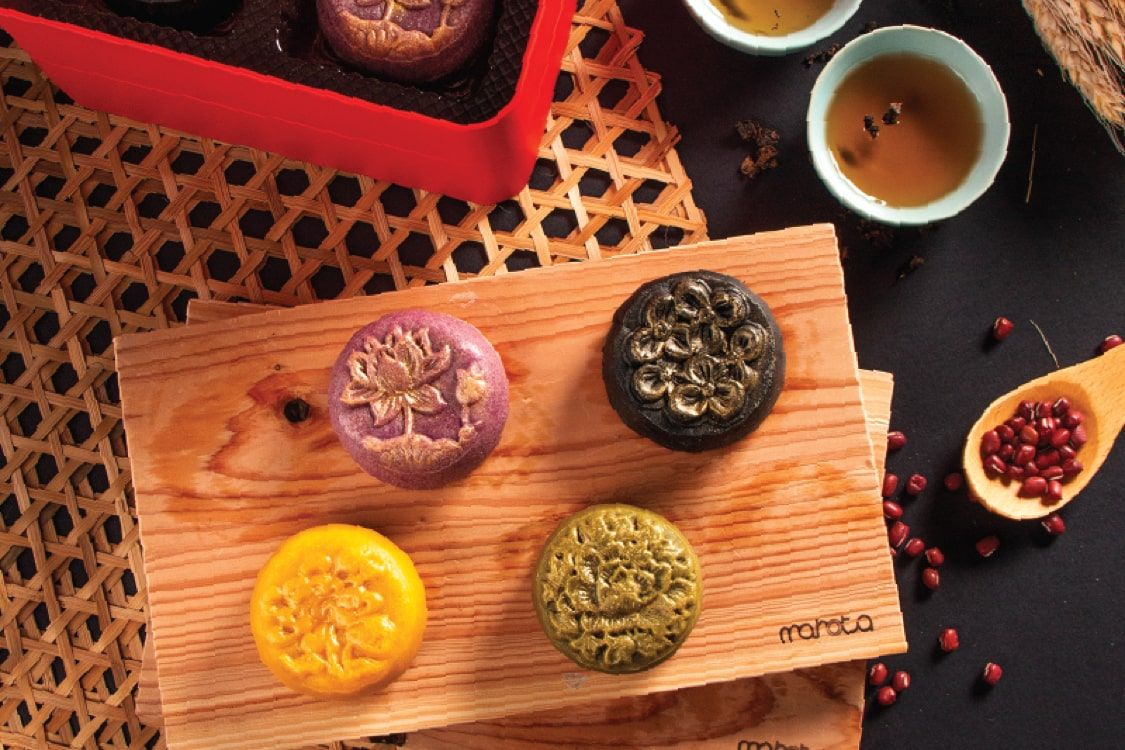 Our keto friends will love this next one. Mahota's yummy keto-friendly mooncakes are made fresh in small batches, free from nasties, and low in carb. Made with wholesome ingredients like chocolate, avocado, bacon, salted egg yolk, coconut oil, nut butters, natural Pandan essence, these mooncakes will surely put a smile on your face.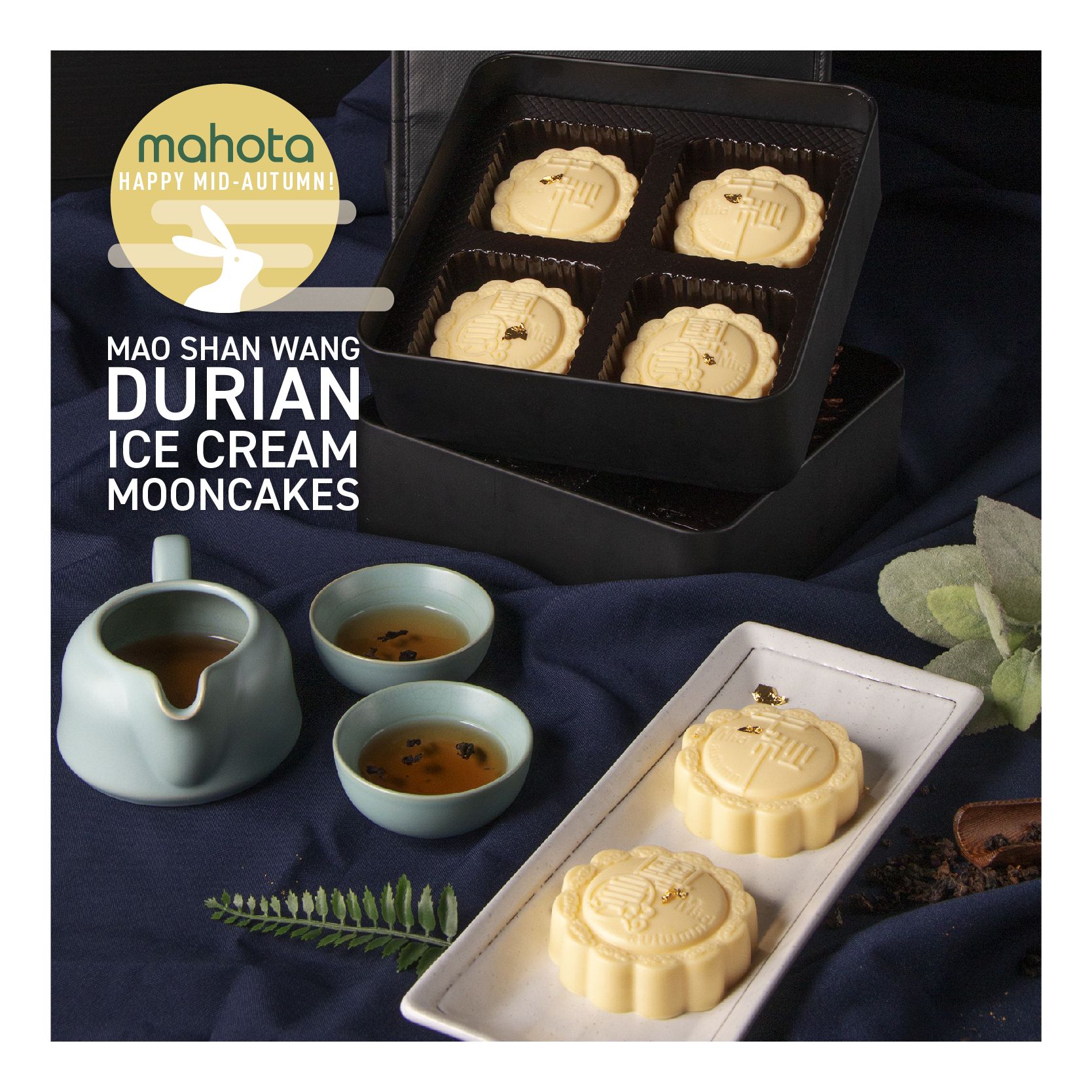 Mahota also offers Mid-Autumn Tea Mooncakes in flavours like earl grey, Thai milk tea, matcha red bean, and tie guan yin. And how could anyone leave out a durian flavoured mooncake for the durian lovers out there? The brand's Mao Shan Wang Durian Ice Cream Mooncake, made with 100% pure Mao Shan Wang pulp, is to die for.
Fuzzie Privilege: Members enjoy $74 per box of 8 of Durian Ice Cream Mooncakes (UP $88), $54 per box of 8 of Tea Mooncakes (UP $68), $54 per box of 9 Keto Mooncakes (UP $68) for delivery and self-collection (min 2 boxes).
The most amazing gift box design this season with a touch of European class.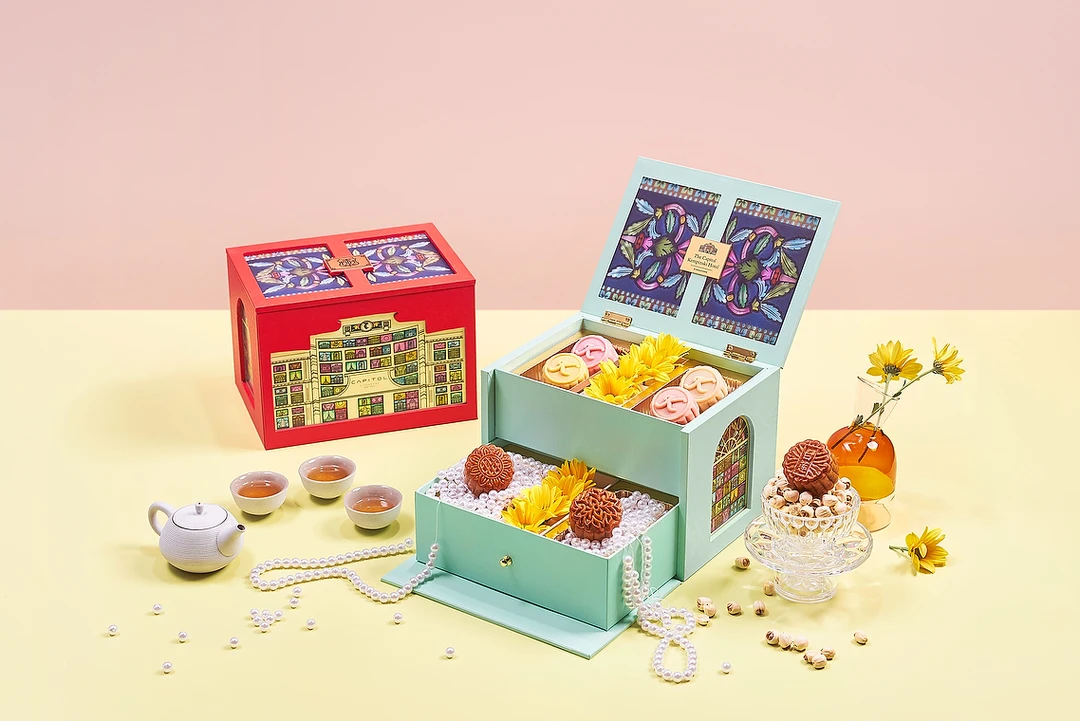 At The Capitol Kempinski, oriental tradition meets western-inspired flavors. Savor a combination of snowskin flavors including strawberry, champagne truffle, lychee rose, and Mao Shan Wang durian. Mini baked mooncakes are also available for everyone to enjoy at home.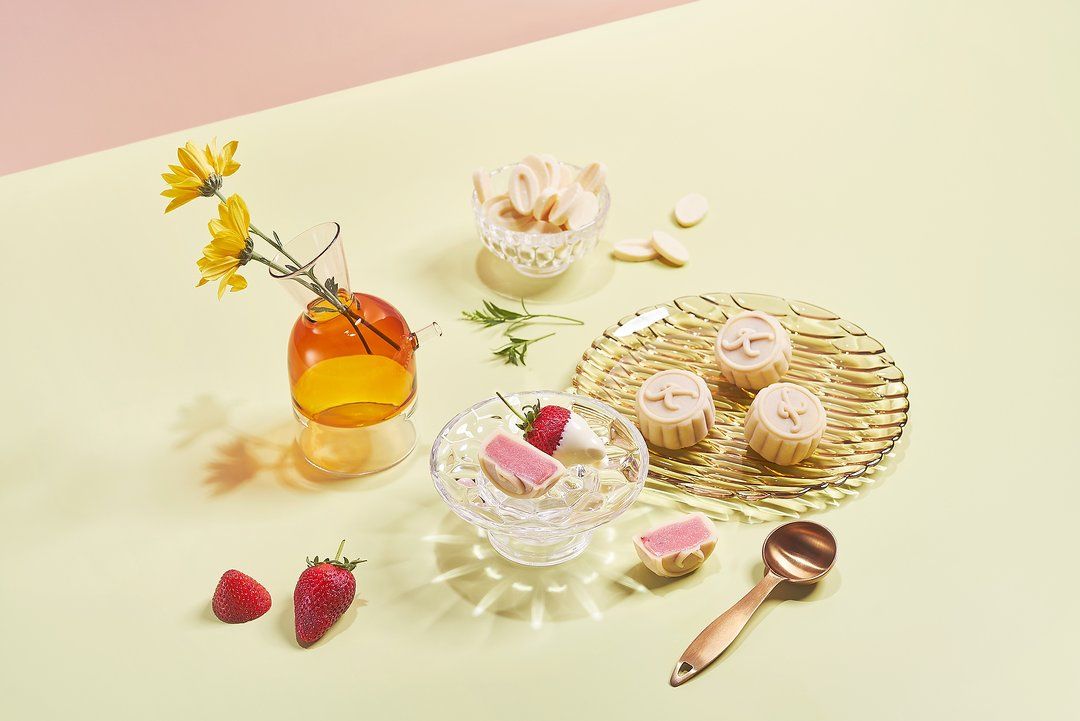 The bite-sized mooncakes are perfect for gifting as they are presented in a stunning, intricately designed and multi-functional wooden jewellery box. They will be a great addition to a mooncake connoisseurs' collection of limited-edition boxes.
Fuzzie Privilege: Members enjoy 20% off all mooncakes from 23 Aug - 21 Sep for delivery and self-collection (no min spend).
An exquisite blend of uniquely Japanese flavours like Uji Matcha and Yuzu.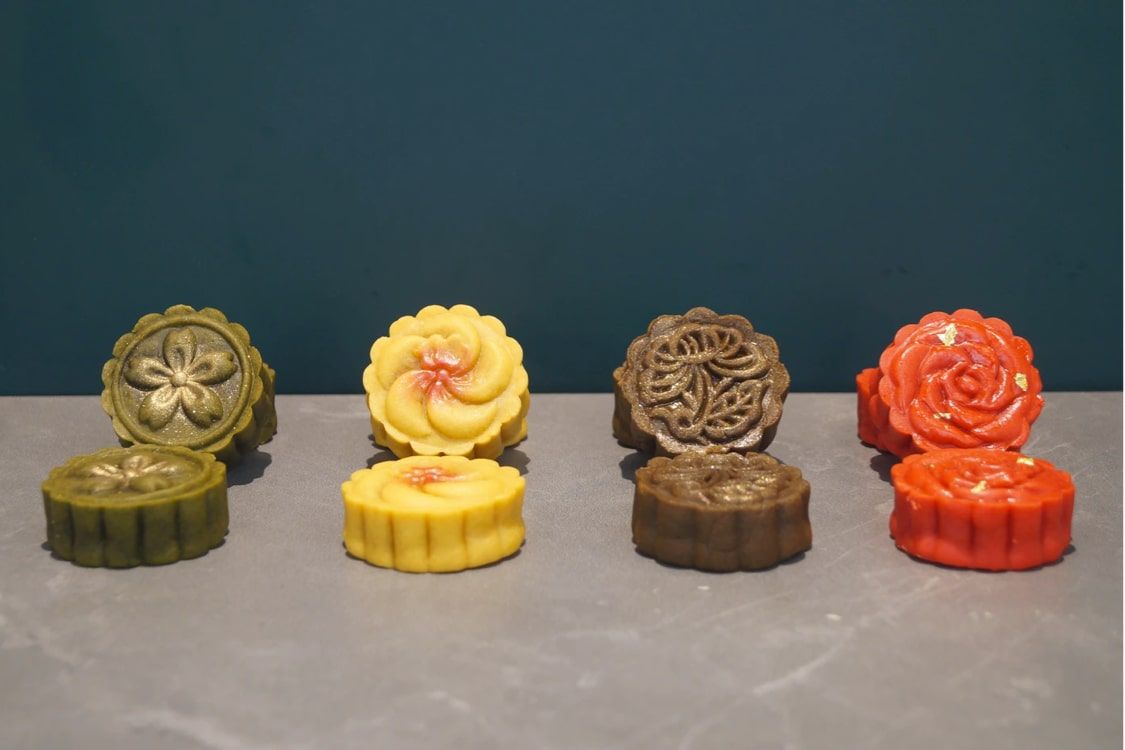 Calling all Japanese culture lovers! Matchaya is known for its authentic tea flavours sourced directly from tea farms in Japan. Now, it has infused some of its most popular flavours into mooncakes, combined with traditional Chinese lotus paste! The tantalising selection includes bittersweet Uji Matcha, nutty Houjicha, zesty yuzu with lime and floral sakura lychee.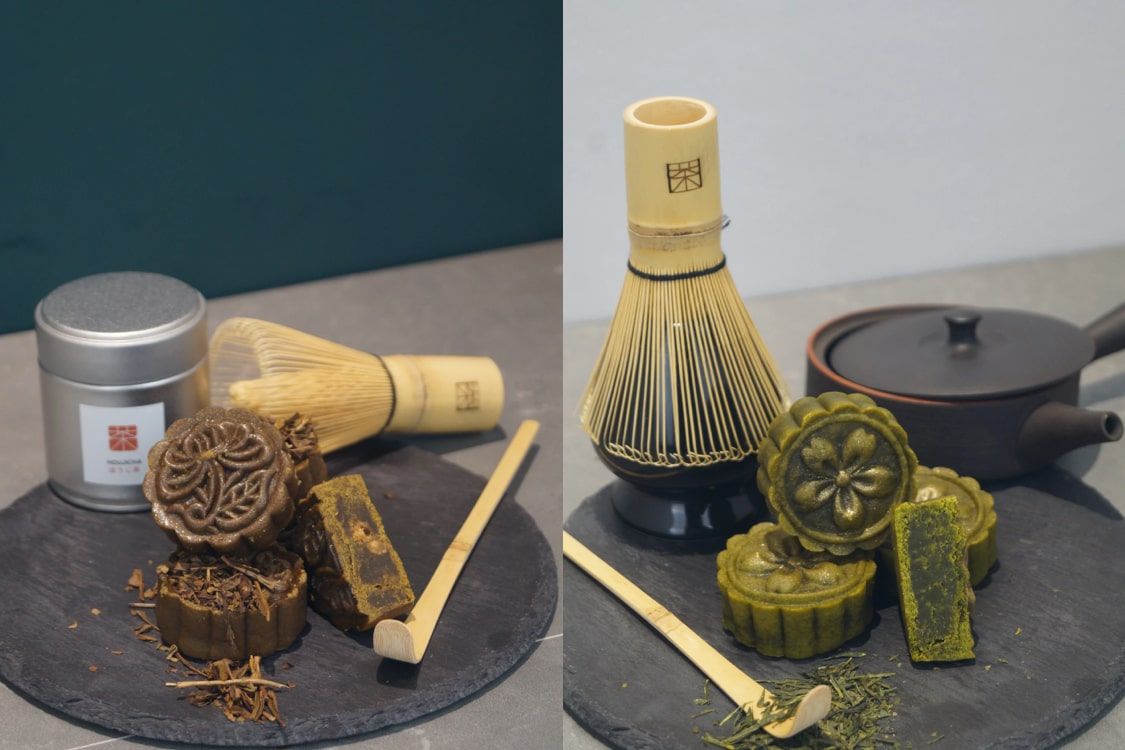 These mooncakes are not just exquisite in taste, but also works of art. Every mooncake is decorated with gorgeous Japanese motifs. Coming in boxes of eight, these snowskin beauties are also made with no egg and no animal fat. Share your love with your family and friends over this classy set.
Fuzzie Privilege: Members enjoy 20% off all mooncakes for delivery and self-collection (no min spend).
The go-to place for lavish truffle-infused durian mooncakes.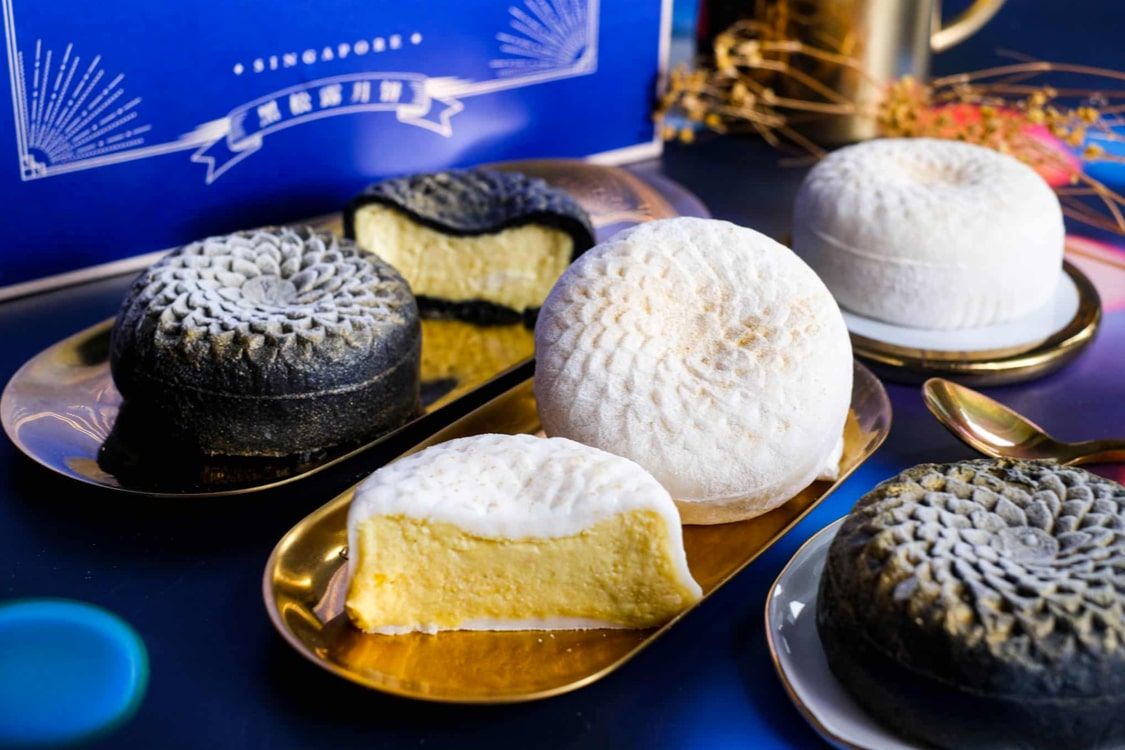 Aroma Truffle's signature truffle-infused durian snowskin mooncakes are back! Only premium ingredients are used, from the finest Italian Black Winter Truffle to the famous Pahang Mao Shan Wang durian flesh. What's more? The delicacy is dusted with 24k gold and encased in Japanese mochi-like snowskin.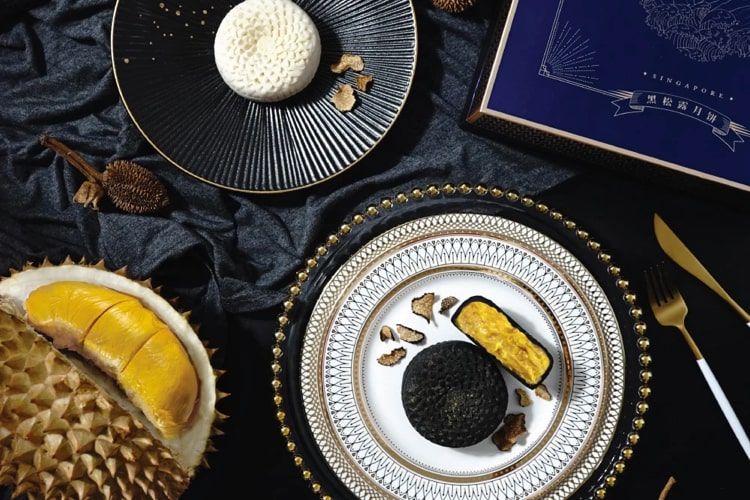 Expect a luxurious and divine taste beneath the mooncakes' elegant exterior. The distinct truffle flavour complements the bittersweet durian flesh. This lavish treat comes in equally sophisticated packaging. Present your loved ones with the gift of royalty this festive season.
Fuzzie Privilege: Members enjoy $54 per box of any mooncakes (UP $108) for takeaway and 25% off all mooncakes and bundles (stackable with promos) for delivery and self-collection.
Be over the moon with Fuzzie this Mooncake Festival
With big savings and decadent mooncakes selections, there's no second guessing that Fuzzie is the place to head for mooncake shopping this year.
---
About Fuzzie- The game-changing privilege club everyone is talking about
Fuzzie is an invite only, all-in-one privilege club that grants you special access to thousands of exclusive benefits on food, spas & massages, cars, staycations, gym & fitness, personal grooming, kids, pets, home, activities, dental, healthcare and many more. As a sign up bonus, you will immediately enjoy over $2000 worth of free gifts with no spending required. Stretch your dollar and save thousands each year as Fuzzie quickly becomes an essential part of your family's life.
If your company does not have access to Fuzzie yet, ask your company HR/management to contact us at hello@fuzzie.com.sg and we'll help you to quickly get set up . Learn more about us.